Colombian painter and sculptor Fernando Botero, known for his inflated forms, dies at 91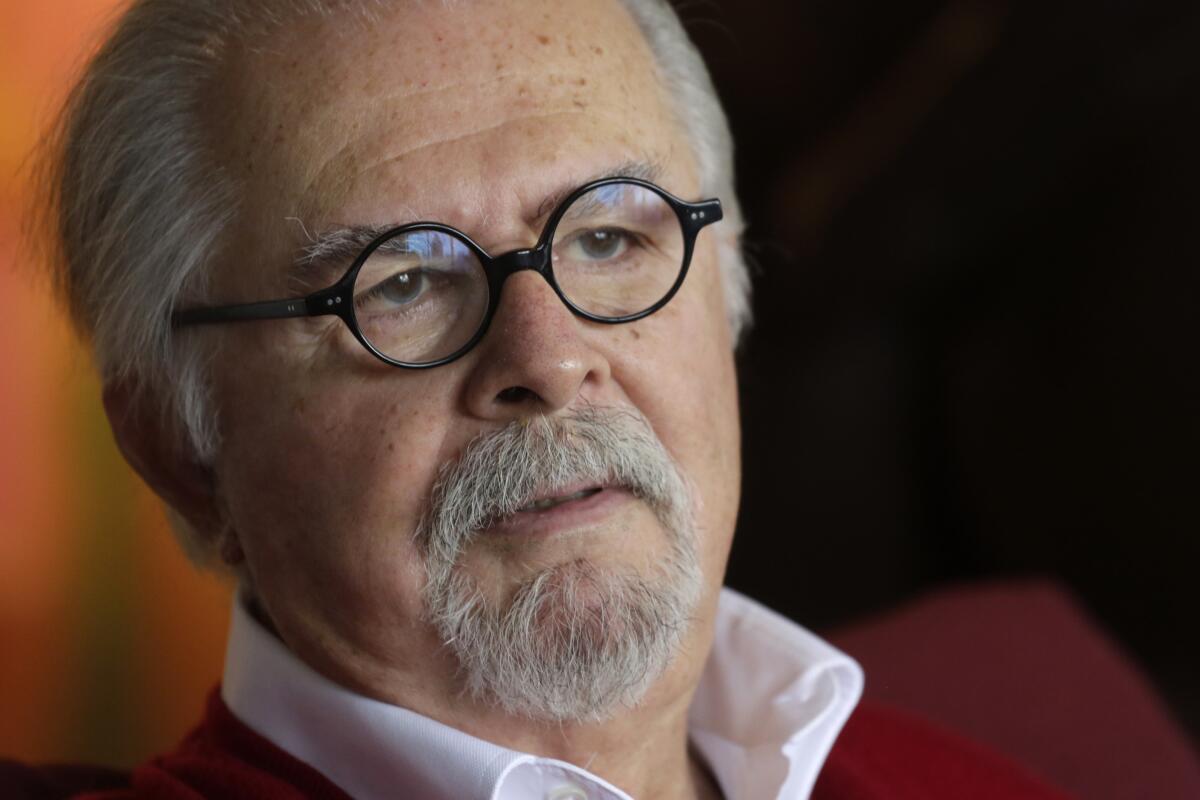 BOGOTA, Colombia —
Renowned Colombian painter and sculptor Fernando Botero, whose depictions of people and objects in plump, exaggerated forms became emblems of Colombian art around the world, has died. He was 91.
Lina Botero told the Colombian radio station Caracol that her father died Friday morning in Monaco of pneumonia complications.
Botero depicted politicians, animals, saints and scenes from his childhood in an inflated and colorful form that was instantly recognizable. During his lifetime the artist attained global fame and influence, despite his humble origins, and his paintings were exhibited in museums globally, while his imposing bronze sculptures can be found in the parks and avenues of many European and Latin American capitals.
In Beverly Hills, there is something distinctly unholy about fat.
"His success was truly immense" Botero's son Juan Carlos wrote in a biography of his father, published in 2010. "Fernando Botero has created a unique style, that is original and easy to recognize."
Botero's paintings fetched millions of dollars at international auctions, and the artist was highly esteemed in his native Colombia, not just because of his success abroad, but due to the generous donations he made to his home country, including 23 statues that are now in a park in downtown Medellin and have become one of the city's most visited attractions.
Botero also donated 180 paintings to Colombia's Central Bank which were used to create the Botero Museum in Bogota. His sculpture of a chubby white pigeon standing proudly on a pedestal became an emblem of Colombia's efforts to make peace with rebel groups and is currently placed in a prominent gallery inside the nation's presidential palace.
Injustices in his homeland and Abu Ghraib push Colombian painter Fernando Botero to act -- and infuse his recognizable style with unfamiliar pain.
Many Colombians appreciated Botero's art because it evokes nostalgia for the country as it was in the early 20th century. His characters wear bowler hats and sport neatly trimmed mustaches. They move around in a colorful universe of green hills and lush trees, where homes are made with clay roof tiles.
"The painter of our traditions and our defects, the painter of our virtues has died," President Gustavo Petro wrote on X, the platform formerly known as Twitter, on Friday. "He painted violence and peace. He painted the pigeon that was rejected one thousand times, and put one thousand times on a throne."
Botero was born on April 19, 1932, in Medellín, Colombia. As a child he was enrolled by an uncle in a bullfighting school that he soon left, but it was a world captured later in his paintings. Botero decided at age 14 to dedicate his life to the arts, after managing to sell some sketches of bullfights to fans outside the city's bullfighting arena. His mother supported the decision, but told him he would have to pay for his studies.
At 80, Colombian artist Fernando Botero has no plans to retire
As a teenager, Botero participated in a group exhibition in Bogota, and had his first individual exhibition there in 1951. In the following year, he went to Madrid to study at the Royal Academy of Fine Arts of San Fernando.
From Europe, he traveled to Mexico to study the work of Diego Rivera and José Clemente Orozco.
During his travels, Botero married Gloria Zea, with whom he had three children, Fernando, Lina and Juan Carlos. Returning to Bogotá in 1958, he was appointed professor at the School of Arts of the National University. He later divorced and took up residence in New York in 1960, where he arrived with just a few hundred dollars in his pocket.
In the 1960s Botero began experimenting with the volume of objects and people in his paintings. His original and plump creations attracted the attention of art critics, and by then the painter had created hundreds of drawings as well as some 1,000 paintings.
Botero got remarried in 1964 to Cecilia Zambrano, whom he also later divorced. In 1970 they had a son, Pedro, who died four years later in a car accident in Spain. Botero captured the pain of his son's death in the painting "Pedrito," which depicts his son riding a toy horse and wearing a blue police officer's uniform. He also donated 16 works to the Museum of Antioquía, in Medellín, to honor the boy. In turn, the museum named a room in memory of "Pedrito Botero."
In the 1970s, Botero put aside painting and began to experiment with sculptures in bronze, marble and cast iron, which brought him great success. In 1978 Botero returned to painting, and then alternated between the two disciplines.
In his paintings, the artists depicted scenes of daily life, such as a family picnic or a party in an early 20th century ballroom. But he also tackled political subjects, like the death of drug dealer Pablo Escobar and the emergence of rebel groups.
In 1995, his bronze sculpture "The Bird," weighing more than 1.8 tons and displayed in a park in Medellín, was dynamited by unknown attackers, causing the death of 22 people and injuring more than 200.
In 2005, Botero created a series of 79 paintings that depicted U.S. soldiers torturing Iraqis at the infamous Abu Ghraib prison in Baghdad, just a year after the incident came to light. The artist struggled to get the paintings shown in U.S. museums, but they were eventually exhibited at the UC Berkeley, which still houses some of the paintings.
"I was moved by the hypocrisy of the situation," Botero said of his Abu Ghraib series in a 2007 interview with Semana magazine. "A country that presents itself to the world as a model of compassion and as a defender of human rights, ended up torturing people in the same prison where Saddam Hussein tortured people."
Botero said he would paint every day from morning until night, and in absolute silence, so as not to allow anything to distract him.
"Fernando Botero is one of the most disciplined people you can meet. His friends and family affirm that he works every day of every year. For Botero there are no rest dates, no holidays, no weekends," Juan Carlos Botero wrote in his book. At Christmas, "he is painting. On his birthday, he is painting. On New Year's, he is painting."
His daughter, Lina, told Colombian radio station Blu on Friday that Botero had been working at his studio in Monaco regularly until last weekend. "He couldn't work on oil paintings," she explained, because he was too weak to stand and hold larger brushes. "But he was experimenting with water paintings."
Get our L.A. Goes Out newsletter, with the week's best events, to help you explore and experience our city.
You may occasionally receive promotional content from the Los Angeles Times.