On 'Alma's Way,' Sonia Manzano welcomes 'the other Sonia from the Bronx': Justice Sotomayor
When "Alma's Way" returns for a second season on Monday, 6-year-old Alma Rivera (voiced by Summer Rose Castillo) and her younger brother, Junior (Neo Vela), will meet a very special former resident of their Bronx neighborhood — U.S. Supreme Court Justice Sonia Sotomayor.
The series comes from creator and executive producer Sonia Manzano, who played the beloved character Maria on "Sesame Street" for more than 40 years. Like Sotomayor, Manzano grew up in the Bronx and the series is based on her childhood. "We jokingly refer to each other as 'the other Sonia from the Bronx,'" Manzano says about the Supreme Court justice.
The judge makes an appearance in a special two-part episode that kicks off Season 2. In the first segment, titled "Justice Sonia and Judge Alma," Alma learns that solving disagreements is a judge's job. In the second segment, "Justice Sonia and Umpire Alma," Alma learns how to "call it like I see it" when she fears she has made the wrong call about a kickball game.
The PBS series, from Fred Rogers Productions, aims to teach kids about critical thinking. "I noticed when I visited schools that so much is asked of kids these days," says Manzano, who also voices Alma's grandmother, Isa, on the series. "When I went to school, you could miss a week of school and not be behind. I felt underserved kids were getting the brunt of it because they were in overcrowded classrooms, and not being able to memorize and pass tests made them feel they weren't smart. It was important for me to tell kids, 'Everybody has a brain. Everyone can extrapolate from the world around them and come up with conclusions.'"
In an interview, Manzano talked about having Sotomayor as a guest on her show. This conversation has been edited for length and clarity.
How did this guest star appearance come about?
She's a friend. We first met before she was confirmed. I know her from the Latino professional women's community. We worked together on the Bronx Children's Museum. I thought it would be lovely if she came on to the show as a guest, and she agreed, and I thought that her throwing out the first pitch at a ballpark was a good hook. She's so in touch with the people. I thought that would be a good way to present her.
When Alma and her brother meet the justice, she is dressed casually in front of the Bronx housing complex she grew up in and that was renamed after her in 2010.
I thought it was important that kids see she was a kid too at some point in her life, and she lived in those projects that we see her waiting in front with a cleverly placed Puerto Rican flag. It showed her roots, that she's like a lot of children, and what she might wear when she is not in her robe.
For the record:
9:40 a.m. Sept. 18, 2023A caption in an earlier version of this article referred to Grandma Isa. The character is Granny Isa.
Our judicial system is fairly complex. How do you go about presenting it to the show's target preschool audience?
It was hard. But I think that's the joy and the challenge of it is taking a sophisticated concept and breaking it down into little bits that a preschooler may be able to understand. The justice helped a lot with the terminology and, of course, Fred Rogers Productions has a lot of experts that weighed in on using simple language to explain these kind of sophisticated concepts.
In her first episode, the justice helps out when Junior is upset that Alma always gets to the street corner first and gets to push the crosswalk button.
The basis of the show is critical thinking and separating one idea from another. I'm taller and he's shorter so I'm always going to get there first. Is that fair? That is a great example of separating one idea from another and, as I'm sure you've witnessed, we as Americans are kind of losing that capacity.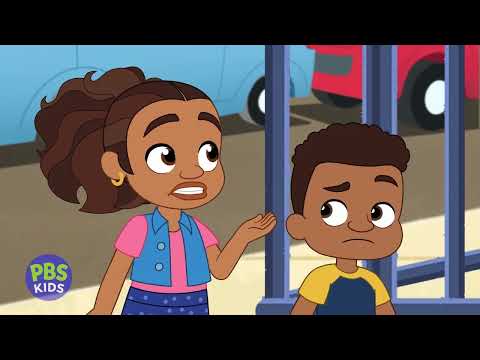 Why do you think it's important for young children to understand the judicial system?
It's important that kids know at an early age how things work. The mechanics of things. How a restaurant works, for example. Our judicial system is that we have a set of rules that we follow and children know about rules. They raise their hands to go to the bathroom. They have to wait in line. They have to wait their turn, so it's not that foreign to them. They'll make the connection at some level. There are rules that we all live by.
How long did it take the Justice to record her part?
We did it in one afternoon. She's very gregarious and outgoing and friendly, so it was easy for her. It was more challenging for our voice director, Holly Gregory. She said, "I can't believe I interrupted a Supreme Court justice and asked her to say her line again or say it with this feeling."
You spent years in front of the camera. What's it like to be on the other side?
I had a taste of it on "Sesame Street." I had some questions about the Latino content on the show. The producers said to me, "Here, why don't you try writing some yourself?" I really had to put my money where my mouth is. I got a sense of behind the scenes and I also understood that that's where the power was. If you really wanted to impact what came across on the front of the screen, the real power is behind the screen. So I understood that and I was able to shine a light to a lot of different aspects of Latino life. So I brought all of that knowledge with me to "Alma's Way."
Children's TV has become more diversified over the last few years. "Alma's Way" is one of a handful of children's shows to center around a Latino family.
I realize the more specific you are about your particular vision and your point of view, the more people will like the show. You can find another Puerto Rican producer who has a completely different experience of the South Bronx and a completely different lens through which he or she looks at their culture. The fact that Fred Rogers Productions is letting me show my vision of my culture the way I see is what really is going to make it resonate.
Also, of course, you have to be entertaining. It is television. You have to put it in the artistic form of television. You have to have a punch line and a story has to have an up and a down and razzle-dazzle, a certain amount of artistry that has to come in. Certainly I learned that on "Sesame Street." Children can tell when you are teaching and looking down on them and giving them a good cultural lesson.
You have been such an integral part of children's television for over 50 years. What are some of the biggest changes you've noticed?
There's a huge amount of animation. I don't want to shoot myself in the foot because "Alma's Way" is animated, but I wish there were more people. There used to be more humans in children's television, so that's changed. There's so much more TV. There's a lot of competition out there. You are fighting for eyes on the screen.
I loved television as a kid, I watched hours of it. It was a refuge. I love the stories. I loved "Lassie" and shows like that. I know the impact that stories and television can make on children, especially if they are kids who are looking to the screen for escape. They look to television for comfort and guidance, which I think is very important.
Get our L.A. Goes Out newsletter, with the week's best events, to help you explore and experience our city.
You may occasionally receive promotional content from the Los Angeles Times.