(Mariah Tauger / Los Angeles Times)
On a quiet cul de sac in suburban Los Angeles, the installation of Martin Guevara and Grace Kuo's prefab accessory dwelling unit, or ADU, caused quite a stir in the neighborhood.
"It was like a block party," said Guevara, 68. "All of our neighbors came out to watch."
Guevara was referring to a prefab ADU designed and built by Villa Homes; the 850-square-foot home was craned over the couple's existing home and placed into position in their backyard in the South Bay last year.
"It was in two halves," said his daughter Melanie Guevara, 33, who lives in the ADU behind her childhood home with husband Devon Hollowood, 34. "It was already outfitted, including the appliances."
"We were thinking, 'Please don't drop our house,'" Hollowood said with a laugh.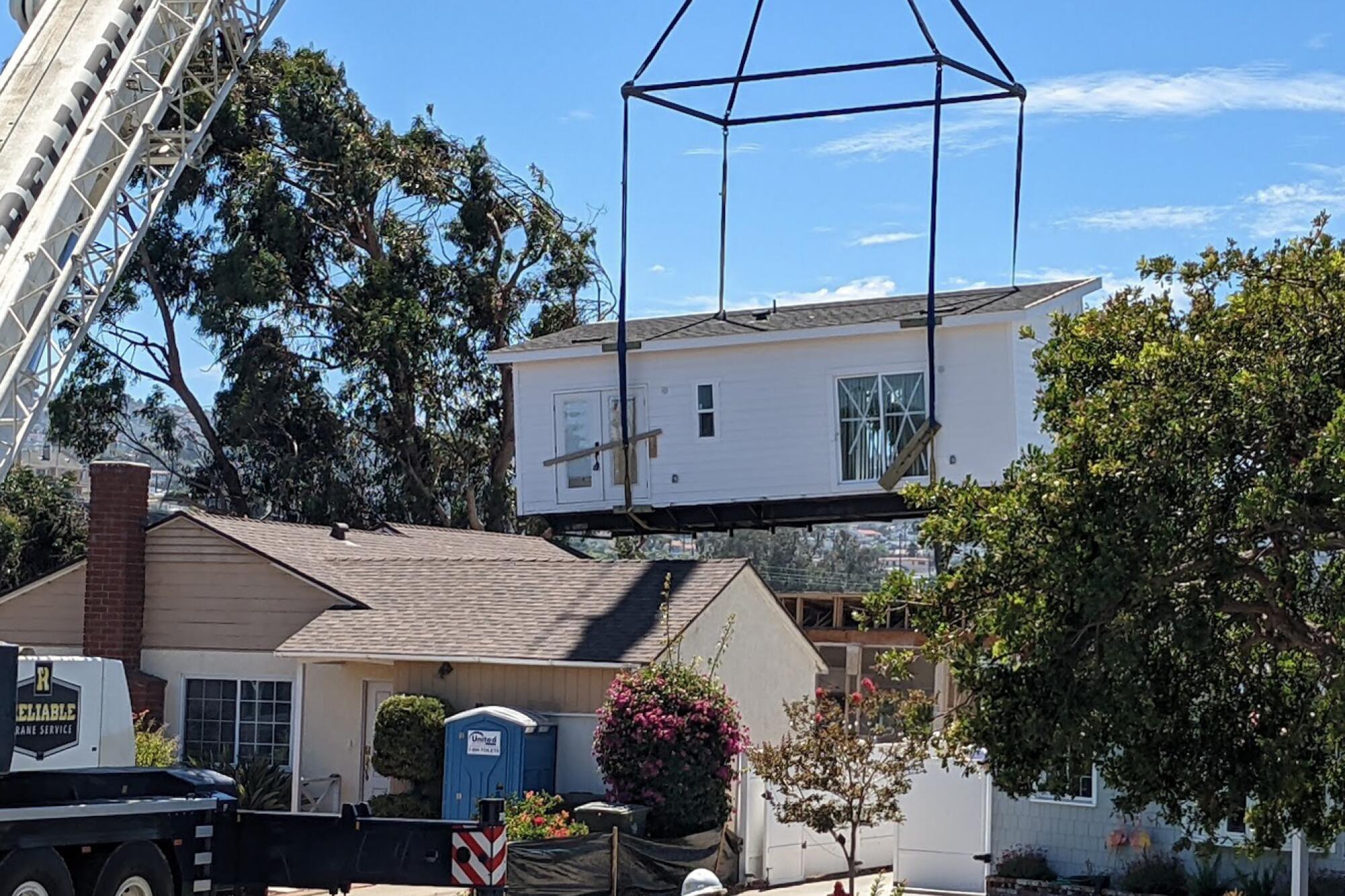 Like many people who chose to pack up and move during the COVID-19 pandemic, the couple were living in a rental house in Hawaii for three months with Melanie's brother and his girlfriend. That's when they had the idea for the ADU.
Melanie had just graduated from the UC Berkeley School of Optometry and Hollowood, a software engineer for Google, was working remotely in San Francisco after receiving his PhD in physics at UC Santa Cruz. While on Oahu, they considered their next steps, including where to live.
"In Oahu, many people had ohana suites in back of their homes for family or to rent," Melanie said, referring to small family dwellings similar to ADUs. "Initially, I thought we could live in a little house and travel. That was the original genesis for the ADU — instead of having to rent something that's not ours. That was my floating-in-the-ocean fantasy."
Hollowood, who also loves to travel, took a more businesslike approach. "We were trying to dodge the housing crisis," said Hollowood, who grew up in Walnut Creek. "We couldn't afford anything. We didn't have money for a down payment. But we wanted our own place and didn't want to waste money on rent. We thought we could move into a backyard unit as a starter home."
Guevara and Kuo, both optometrists, purchased their 1,300-square-foot home for $300,000 in 1995 and were empathetic to their daughter and son-in-law's struggle to find housing.
For Adrian Perez, an ADU on his parents' property in Culver City gives him independence and his parents peace of mind.
With mortgage rates low in 2021, building an ADU versus the cost of rent "just made so much sense financially," Guevara said. "And, of course, we loved the idea of them being close to us."
Today, however, owning a home is a bigger challenge for SoCal millennials and Gen Zers, with mortgage rates at their highest level since 2002 and the median home price in Los Angeles nearing $1 million. This has left some younger people believing they will never own a home.
California is losing population and adding housing units, but housing costs are still sky-high, and experts don't expect that to change anytime soon.
"So many people of our generation have student loan debt and can't afford to buy a house," Melanie said. "When you hear them talking about not having kids, that is partly why."
The full kitchen features a cozy window seat. (Mariah Tauger / Los Angeles Times)
The striking changes in the housing market were not lost on longtime homeowners Guevara and Kuo, who viewed the ADU as a sound investment in a shaky financial market. "We have lived in this house for 28 years, so we could finance the ADU quickly," Kuo said. "The ADU cost more than our house when we bought it."
While waiting for her optometrist license, Melanie researched options in Los Angeles. She contacted several ADU companies, including Villa, which offers 10 models ranging from 440 to 1,200 square feet. After an initial video consultation, she learned that a custom 850-square-foot prefab ADU would cost $475,000, roughly $100,000 less than the bids they had received from local contractors.
The couple liked that the designs were preapproved and that the company handled all the permitting and project management.
After they worked on the design — their particular home model is no longer available — Villa poured the foundation, and the house was trucked in and installed in the backyard by crane. Next, Villa added flooring, installed cement board siding, painted, stitched the two halves together and hooked up the various utilities.
Situated behind Grandma's house, this Eagle Rock ADU is perfect for a young family of three.
The interiors of the ADU are sunny and bright, with a living room, two bedrooms and two baths, a laundry, a full kitchen and a cozy window seat. There is room for a small dining room table and storage in the IKEA sectional. The second bedroom can be used for guests and gives Hollowood space to work from home twice a week.
The family shares the backyard and enjoys gardening together, yet there is a sense of privacy thanks to the orientation of the homes.
James Connolly, co-founder and chief executive of Villa, said he was drawn to ADU manufacturing after trying to help his mother install an ADU in Northern California. "It was difficult, but I thought the concept was promising," Connolly said. The advantage to prefab, he said, is that it is "more affordable, faster, cheaper and a more efficient use of materials."
Connolly grew up in the Bay Area, where many of his childhood friends had been displaced by the cost of housing. "My parents bought a house for $225,000 when I was 4; by the time I graduated from UC Berkeley, it was worth about a million dollars," he said. "Income opportunities, unfortunately, did not keep up, and it became impossible for my generation to buy a home. Eighty percent to 90% of the kids I grew up with were displaced. It was tearing families and communities apart."
When the laws passed in 2020 making it easier for homeowners to convert garages into ADUs, Connolly said he saw it as an opportunity to help solve the housing crisis.
The exterior of the 850-square-foot prefab ADU. (Mariah Tauger / Los Angeles Times)
What Connolly finds most exciting about ADUs is their potential to keep families close. At a time when Los Angeles is experiencing a housing shortage, Connolly points out, "I believe that this multigenerational living theme is something that Americans will adopt moving forward, more like our international peers. It will be better for families. Everyone deserves to have a place that they can call home."
Living at home for the first time since she was 18 has been an adjustment, but Melanie enjoys being near her parents. Past and present collide on the 8,400-square-foot lot, where the family members can "keep an eye on each other," said Kuo, 64. "We cook dinner together, and Bud [Martin] and Devon often host movie nights in the living room of the ADU."
Details inside the guest bathroom of the 850-square-foot prefab ADU. The guest bedroom also serves as an office for Hollowood, who works from home twice a week. (Mariah Tauger / Los Angeles Times)
The young couple paid a quarter of the cost of the ADU and plan to pay the mortgage as rent. Hoping to have children one day, they don't see themselves living in the ADU indefinitely. However, that doesn't worry Guevara and Kuo, who said they can use it for other family members who need housing.
The family is happy with the result of the ADU despite supply chain issues and a long wait for permits to be approved, even with the assistance of Villa.
"It's a huge life upgrade," Melanie said. "And we can interact with my parents as much or as little as we like."
"We've never lived anywhere bigger than this," Hollowood added. "It's perfect for the two of us."
Subscriber Exclusive Alert
If you're an L.A. Times subscriber, you can sign up to get alerts about early or entirely exclusive content.
You may occasionally receive promotional content from the Los Angeles Times.