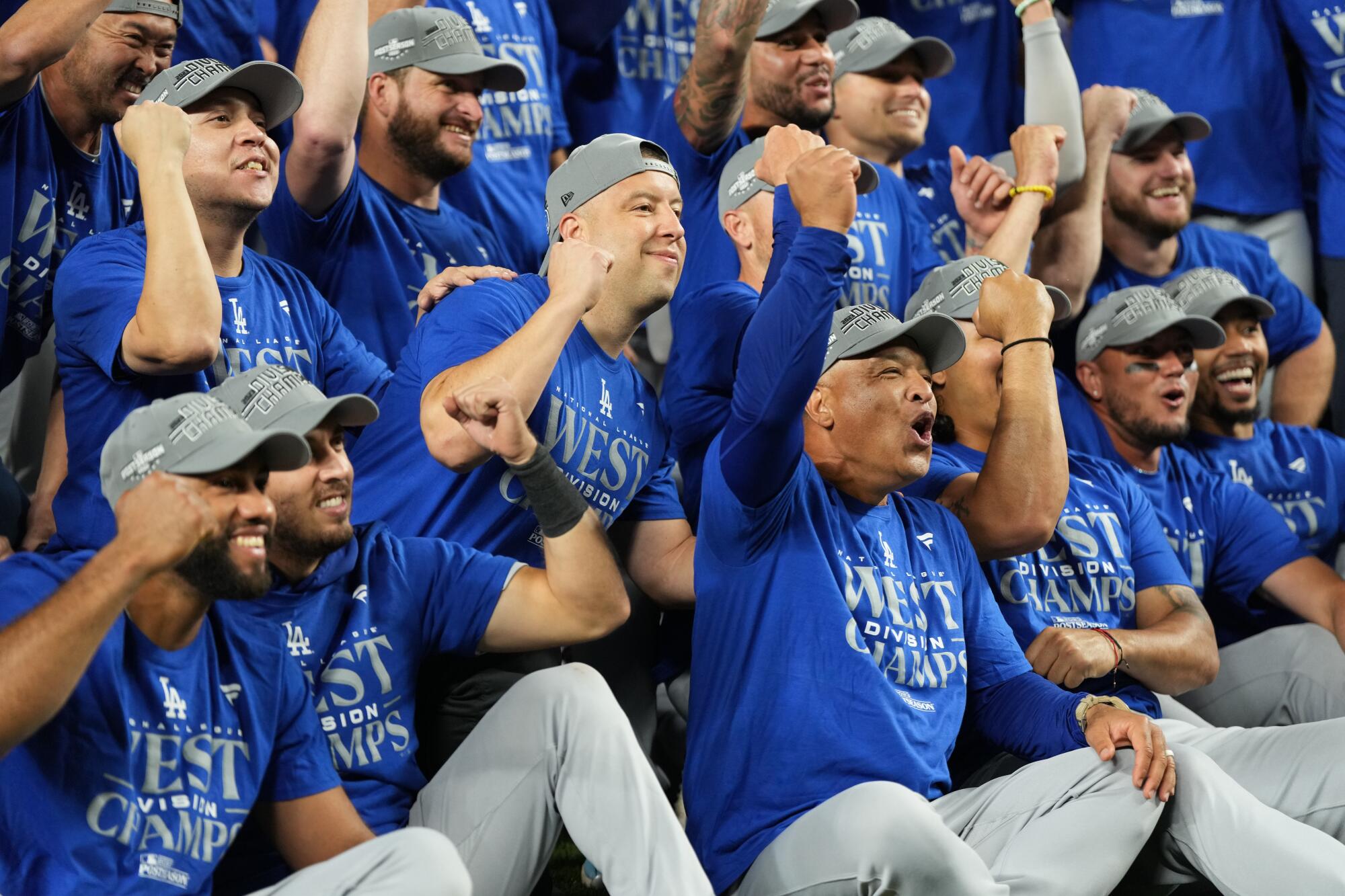 (Liv Lyons / MLB Photos via Getty Images)
The Dodgers knew they were struggling. They knew something needed to change.
So, three months into their up-and-down start to the season, most of the team gathered in the batting cages before the start of a pivotal homestand to finally — as a group — address it out loud.
This was in early July, after one of several low points that marked an underwhelming first half to the team's 2023 campaign.
They'd just returned from a trip full of rain delays, travel issues and long nights in Denver and Kansas City. They'd let the circumstances impact their play against a pair of last-place teams, going 3-3 against the Rockies and Royals to remain three games back in the National League West standings.
J.D. Martinez hits two home runs as the Dodgers pummel Detroit Tigers starter Eduardo Rodriguez, who nixed a trade to L.A. earlier this summer.
Thus, before the start of another series the next day, the team went around the room to reinforce a simple message.
"We need to play with a little bit more sense of urgency," shortstop Miguel Rojas recalled. "We need to show that we're hungry, and we want to do this."
In the three months since, the Dodgers have lived up to their word.
Starting with a win over the Pittsburgh Pirates that night, they went 13-8 over the rest of July, finishing the month with a two-game lead in the division.
In August, they soared to historic heights, winning a Los Angeles franchise-record 24 games to cement themselves as a legitimate contender.
This past weekend, with still two weeks to go in September, they officially clinched the National League West, locking up a division crown that — despite being their 10th in the last 11 years — wasn't widely predicted at the start of the season.
"Every year is different, but for me, this is the most fun I've had managing," manager Dave Roberts said during the team's boozed-soaked clubhouse celebration Saturday night in Seattle, praising a team full of promising rookies, resurgent veterans and superstar talents who have formed a magnetic, close-knit bond.
"To see those guys celebrate one another, pull for one another, sacrifice for each other," Roberts said, "it makes my job that much more joyful."
It's anyone's guess whether there will be more champagne showers in the Dodgers' future.
Despite owning MLB's third-best record at 91-57, their World Series hopes have taken several blows in recent weeks.
Julio Urías was arrested on suspicion of domestic violence and is likely to spend the remainder of the season on administrative leave.
Walker Buehler was ruled out from returning from Tommy John surgery before the end of the season, joining Dustin May and Tony Gonsolin on the team's lengthy list of injured pitchers out for the playoffs.
Clayton Kershaw has battled a lingering shoulder issue, leading to diminished velocity and limited workloads over his last three outings.
And the team's October rotation might depend on a rookie, Bobby Miller, who has fewer than 20 career starts and a veteran, Lance Lynn, who has given up more than 40 home runs this year.
"Obviously, we're gonna be a little shorter on the pitching staff, in terms of experience," Andrew Friedman, the team's president of baseball operations, said.
The Dodgers can't catch the Orioles for World Series home-field advantage after clinching a bye through the wild-card round.
The Dodgers nonetheless maintain confidence.
That their superstar duo of Mookie Betts and Freddie Freeman can lead an offensive onslaught through October.
That their veteran depth can supply clutch support both defensively and at the plate.
That their patchwork pitching staff still possesses enough raw talent — or, in Friedman's words, "big-boy stuff" — to navigate the pressures of the postseason.
And, most of all, that their renewed clubhouse chemistry can continue to buttress what has already been an expectation-breaking season, turning a star-studded but short-handed squad into one that's been worth more than the sum of its parts.
"No one talked about chemistry or clubhouse culture, it just naturally happened," Freeman said. "I think the key word is trust. When you can trust each other, that's what creates culture."
---
It wasn't just fans, media and other external onlookers asking the question this spring.
After the offseason departures of longtime team leader Justin Turner, homegrown MVP Cody Bellinger and popular shortstop Trea Turner, even some players were curious to see exactly who this year's team would revolve around.
"I think a lot of us were wondering the same thing," third baseman Max Muncy said. "Wondering what it was gonna be like this year."
The answers didn't emerge immediately.
While Freeman, Betts and Kershaw were leaders by default, none of them possessed outwardly vocal, rah-rah personalities around which the team could rally.
Ronald Acu?a Jr. has put up great numbers, but MVP favorite Mookie Betts' stats are better and his versatility is critical to the Dodgers' success.
Though Muncy, Chris Taylor and Austin Barnes were long-tenured veterans, they alone couldn't fill the void created by the winter roster turnover — and the loss of Justin Turner in particular.
"Justin was the guy that ended up being the mouthpiece for a lot of the players, taking accountability, answering the tough questions, being the go-to guy," Roberts said. "To lose that was hard. It took us a while."
Early on, it was evident in the team's play.
For most of April, the Dodgers hovered around .500, plagued by an inconsistent offense and an underperforming pitching staff. After leading the division for much of May, they slid to third place by late June, with injuries to their rotation mounting and their young depth struggling to adjust to the big leagues.
By the start of July, they'd reached a low point, closing their Denver-Kansas City trip with consecutive losses to the lowly Royals that left them just 1 1/2 games ahead of the playoff cut line.
"It's a long season, and sometimes you get in a hole or a slump without even thinking about it," Rojas said. "So you have to have those conversations to lift out of it."
And on the 2023 Dodgers, it was a group of other newly arrived veterans who helped spur a charge.
Designated hitter J.D. Martinez became a role model in the batting cage with his tireless hitting routine. Outfielder David Peralta emerged as a spark plug in the dugout, leading to his train-horn hit celebration being adopted by the entire team.
Veteran relievers Shelby Miller and Ryan Brasier solidified the bullpen — which utilized its own routine of reliever-only meetings to snap an early-season slump — while Lynn, a well-traveled trade-deadline addition, gave the young rotation another experienced voice.
"Yes, people are gonna look at Mookie and me and guys that play everyday," Freeman said. "But when you have [other veteran] guys that go out there and grind and then take their job and their roles and never complain, that's what creates good culture."
Rojas and Jason Heyward might offer the best illustrations.
Heyward has been one of the most impactful veteran additions, emerging as both an authority figure and wisdom-imparting mentor for a team in flux.
He gifted the entire roster with bottles of wine before opening day, using it as a metaphor for patience at the start of a long season. He educated rookie arrivals of the expectations that come with life in the big leagues, unafraid to call out lapses in work ethic or violations of dress codes. And he's done it all while authoring a career-resurgent season, commanding respect with his actions and his play.
"I heard about a little incident where Jason called a player out and said, 'We don't do things this way,' " Roberts said. "When you've got veteran guys who do that everyone has to follow."
Rojas has added another dynamic, thrust into the everyday lineup — and increased responsibilities behind the scenes — following Gavin Lux's season-ending knee injury in the spring.
He has been counted on to diffuse high-pressure situations (teammates say he's one of the go-to jokesters in the dugout) and help others focus in critical moments (more than once, he has initiated mound meetings with young pitchers to calm them down in the middle of jams).
He can deliver impassioned clubhouse speeches (like the one that followed the Kansas City series), while also providing a steady, calming presence despite what has been a down season for him.
"We all know that we have our core, and we all respect that," Rojas said. "Mookie, Freddie, Kersh, Barnes, those guys have been here a while and are the core of the clubhouse and the organization."
At the same time, though, "we're all here to serve each other," Rojas continued. "That's what I feel has been the key for this team since spring training. We all came here with a goal of, not just proving ourselves, but proving that we can bring something special to the table. And everybody does it in a different way."
That emphasis has led to a new tradition, one that has coincided with the team's surge over the second half of the season.
Every time the Dodgers win a series, Rojas will lead a postgame clubhouse celebration. He'll give a speech. The team will share in a ceremonial tequila shot. Then, the players will pick a "series MVP," inviting that person to the middle of the room for extra recognition.
"Especially for this team that won 111 games last year, it's really hard to get fired up after every single win," Rojas said. "So we did something else special. … Because when we get to the playoffs, and we get to the first series, that's all we're gonna care about. Winning that series. So that's how we're keeping ourselves motivated, to win each series."
The results have been reflected in the team's play.
The Dodgers have won 45 of their last 65 games, keyed by improved pitching (they rank fifth in MLB in team ERA since July), MVP-caliber surges from Betts and Freeman (they rank first and third, respectively, in wins above replacement according to Fangraphs) and more consistent offense from the rest of the lineup (including an .815 team OPS with runners in scoring position, fourth-best in the majors).
They've won 16 of their last 21 series, including a sweep of the Seattle Mariners this past weekend that led to a serendipitously significant moment.
Having clinched not only the division Saturday night, but also another series win in Seattle, Rojas first led the team in a clubhouse toast. Then Heyward followed with a few words of his own, having fittingly been honored as the weekend's standout performer.
"Two guys that are new to the team," Kershaw remarked later of a moment that seemingly epitomized much more. "It's just a testament to everybody on down that's done so much for this group."
Added Freeman: "When you bring in the right people, it just kind of naturally happens."
---
Chemistry, of course, only counts for so much once the postseason arrives.
The Dodgers claimed last year's club was one of the closest they'd ever had, then were promptly eliminated by a San Diego Padres team that looked hungrier than them in a four-game National League Division Series upset.
They've boasted about culture during other recent division-winning campaigns, only to suffer the kind of October disappointment that has become all too familiar for a franchise with just one World Series title in the last decade.
"Obviously," Kershaw said during the team's division-clinching celebration Saturday, "[this is] not the ultimate goal."
But with this year's team, perhaps more than any before it, the Dodgers believe the bonds will pay dividends.
Already, the roster has bought in to a platoon-heavy approach — one that, in this season's most extreme example, resulted in Heyward being removed early from an August game at Baltimore despite hitting a home run in his first at-bat.
"He could have taken that and said he's OK with it, but then come to me or anyone else in the clubhouse and side-talk it," Freeman said. "We just don't have that here. There is trust between the players and coaching staff."
On the pitching staff, rookies Miller, Ryan Pepiot, Emmet Sheehan and Gavin Stone — all of whom could play key roles in the postseason — have soaked up conversations with Kershaw and Lynn while preparing for their first World Series push.
"I told some of the younger guys, 'Yeah, it does happen a lot here. But it also doesn't,' " Kershaw said of Saturday's celebration. "This is a very short window. And you just have to embrace it, you have to enjoy it."
And unlike last October, when observers inside the organization and around the industry wondered why the Dodgers looked so flat against the Padres, Roberts is confident a lack of intensity won't become an issue again.
"I think there is more gratitude and appreciation for playing the game [on this year's team] than there ever has been," Roberts said. "You see it in their work, their preparation, their love for each other."
Said Freidman: "This feels as together and united of a group that I've ever been around. Just to watch the way they played for each other, picked each other up, had guys step up with all that has gone on this year — there's so many different guys that have had such an impact on this group."
Shohei Ohtani wants to remain a two-way player despite injuries. The Dodgers can offer the superstar the best chance to achieve his goals.
That will have to remain the case for the next six weeks.
In this year's playoffs, the Dodgers won't have the most talented or experienced roster. They might have the postseason's most patchwork pitching staff.
What they do have?
"A lot of guys on very different missions," as Heyward put it — from up-and-coming prospects to superstars in their primes to veterans trying to hold on a little longer — who have learned to "grind and compete and have fun together."
"It goes beyond the team dinners, beyond the plane rides," Rojas said. "We're really trying to take something really good out of this year, regardless of the final result. Hopefully, it's bringing a championship and having a parade in L.A. But if that doesn't happen, we're still gonna go out and say that 2023 team was special."
Get our Dodgers Dugout newsletter for insights, news and much more.
You may occasionally receive promotional content from the Los Angeles Times.