10 ways to feed your K-pop obsession in L.A., from cupsleeve events to dance parties
Even before names like BTS, Blackpink and NewJeans got cozy on Billboard charts and shows like Netflix's "Squid Game" and Bong Joon Ho's "Parasite" became required viewing, Korean pop culture has been mesmerizing audiences around the world. Hallyu, or the "Korean wave," is a phenomenon that began in the 1990s when South Korea focused on building its cultural power in other parts of Asia, as well as Europe and the United States. A winning formula was struck, and soon, fans couldn't get enough of the catchy, feel-good music (and synchronized dance moves) of K-pop groups, the satisfying escapism of Korean TV dramas, the innovations in the Korean beauty industry and other exports that transcend continents. The Korean wave had become a tsunami.
If you're wondering where to begin on your own hallyu journey, you're in the right spot. There are plenty of ways to get your fill of Korean pop culture in Los Angeles, which has the largest Korean population in the United States. Whether you're looking for cool merch, fan meetups or experiences to bring out your own inner K-pop star, there's a place for that — and you don't even need to book a plane ticket to Seoul.
Watch a K-pop concert or Korean film at CGV Cinemas
CGV Cinemas is a chain from South Korea that programs the latest releases from Korea. With locations in the MaDang Courtyard in Koreatown (marked on this map) and the Source OC in Buena Park, CGV plays both American and Korean films and is one of the handful of theater companies that offer 4DX, motion seating and special effects like puffs of air, sprays of water and mild scents. BTS' "Yet to Come" concert played in 4DX and the seats actually moved along to the choreography. Talk about an immersive experience.
Want more movies?
The Korean Cultural Center in Los Angeles
, operated by Korea's Ministry of Culture, Sports and Tourism, provides free screenings of contemporary and independent films, film classics, films by Korean American filmmakers and a traveling Korean film series once a month. The cultural center also hosts events and exhibitions designed to educate visitors on Korean culture.
More Info
Shop for K-pop albums, light sticks and other merch at K-Pop Nation
At K-Pop Nation, a pop-up shop turned permanent megastore, K-pop fans can get lost in the aisles of constantly changing merch, which may include anything from Super M button sets to SKZ plushies to special-edition Blackpink albums. Need a concert light stick? There are rows of them. Looking for official SKZOO merch (a toy line that features animal representations of the members of the music group Stray Kids)? You'll find tons of it. Shoppers appreciate the reasonable prices and limited-time freebies (follow the shop on
Instagram
for the latest offerings).
Other places to shop for K-pop goods:
Choice Music
, on the third floor of the Koreatown Galleria, has one of the larger collections of albums available, including those from lesser known groups. Products can be purchased online for pickup at the store. And for those who follow K-pop groups Treasure and BTS, the
LINE Store
in Hollywood is stocked with their specialty characters — TRUZ and BT21, respectively — as well as popular LINE characters Brown and Cony.
More Info
Learn the moves from your favorite K-pop video at Debut Dance District
Harvard Heights
Dance Studio
Located in the heart of Koreatown, Debut Dance District offers weekday classes where you can learn the choreography from the music videos of some of the most popular K-pop songs. Think Blackpink's
"叠辞辞尘产补测补丑,"
Stray Kids'
"厂-颁濒补"
and BTS'
"顿辞辫别."
Choose your level of dancing intensity: beginning (two classes a week for four weeks), regular (two classes a week for two weeks) or intensive (three classes a week for two weeks). On special occasions, the dance company offers one-off classes where you can just learn the chorus. And for those who can't attend in person, Zoom classes are offered at a reduced price.
Debut Dance District instructor Yireh Kim is great at calling out participants both on- and offline, making sure everyone knows the routine by the end of the class. Just don't be late — Kim keeps a strict schedule and locks the doors during the warmup. Free parking is available in the underground garage.
碍辞谤别补迟辞飞苍'
Rūts Dance Studio
, owned by sisters and professional dancers Eileen Kim and Diny Kim, also offers K-pop classes around current K-pop songs and older hits for those feeling nostalgic. Diny Kim, who has danced alongside K-pop artists such as JUN, Hong Jinyoung and Ashley Alisha, created the K-pop program as a way to connect to her Korean heritage and spread the love for Korean music. A point of pride for Diny Kim is that the dances come straight from choreographers in the K-pop industry. "Rūts is a platform to not only provide proper education of the different dance styles in K-pop but also an opportunity to celebrate the people that were involved in creating these viral dances," she said. Other dance classes offered include hip-hop, whacking and contemporary dance.
More Info
Take photo booth pics with your K-pop idols at Life4Cuts
High-tech photo booths have been around Korea for decades, and they're now making their way to SoCal. For the uninitiated, these aren't the cramped vintage booths you'll find in the corner of your neighborhood dive bar. Taking photos at Life4Cuts — with locations in Koreatown (marked on this map), Buena Park, Rowland Heights and Stanton — is an experience. Enter the storefront (solo or with friends), fix your hair and makeup at the vanity (there are Dyson hairdryers available), choose from an array of headbands, plushie hats, sunglasses and other adorable accessories and props, pick a photo booth (each has a different background) and step inside. Once you're in the bright and spacious room, select a photo frame (K-pop fans might opt to interact with Treasure or Seventeen, two current options) and start posing. You can use the self-timer or the remote control clicker. The photo prices range from $6 to $10, depending on the size and frame. There's also a QR code option if you want to share your photos with friends.

Mike Seok, Life4Cuts USA/Venture2020's chief marketing officer, said that K-culture isn't just popular culture but service culture. While the photo booths were created in Korea, "We can bridge that experience here and let it evolve and let it grow," he said.
More Info
Gather with fellow K-pop fans at Hello82 LA meet-and-greets and L.A. cupsleeve events
Proclaiming itself the "K-pop fan's playground," Hello82 is not just a California K-pop media company but a community magnet that draws K-pop fans together. On any given weekend at the L.A. music store (marked on this map), you'll find events like photo card trading gatherings, meet-and-greets with K-pop groups like ATEEZ, xikers and P1Harmony, and album release parties. (Recently, Hello82 organized a massive
"Bouncy Challenge"
in Griffith Park, inspired by the revved-up music video of ATEEZ's latest title track, "Bouncy.")
If you're looking to meet new friends from your fandom, including ARMY, ATINYs and M.O.A.s, cupsleeve events are another way to go. At tea houses throughout Southern California, fans celebrate their idols by
creating special cupsleeves
(those strips of cardboard that hug your drinks). Events can be found through various Instagram fan pages, including those of
ATEEZ Cafe LA
and
Magic Hour Cafee
. Los Angeles-based BTS ARMY group
Oh!DDAENG!
has hosted several cupsleeve events and now also puts on album listening parties and dance parties.
"We have formed this amazing network of event hosts and small businesses, many of whom we now consider friends," says Roxanne Caranto of Oh!DDAENG! " We truly enjoy being part of this community that welcomes people from all walks of life and radiates positive energy."
More Info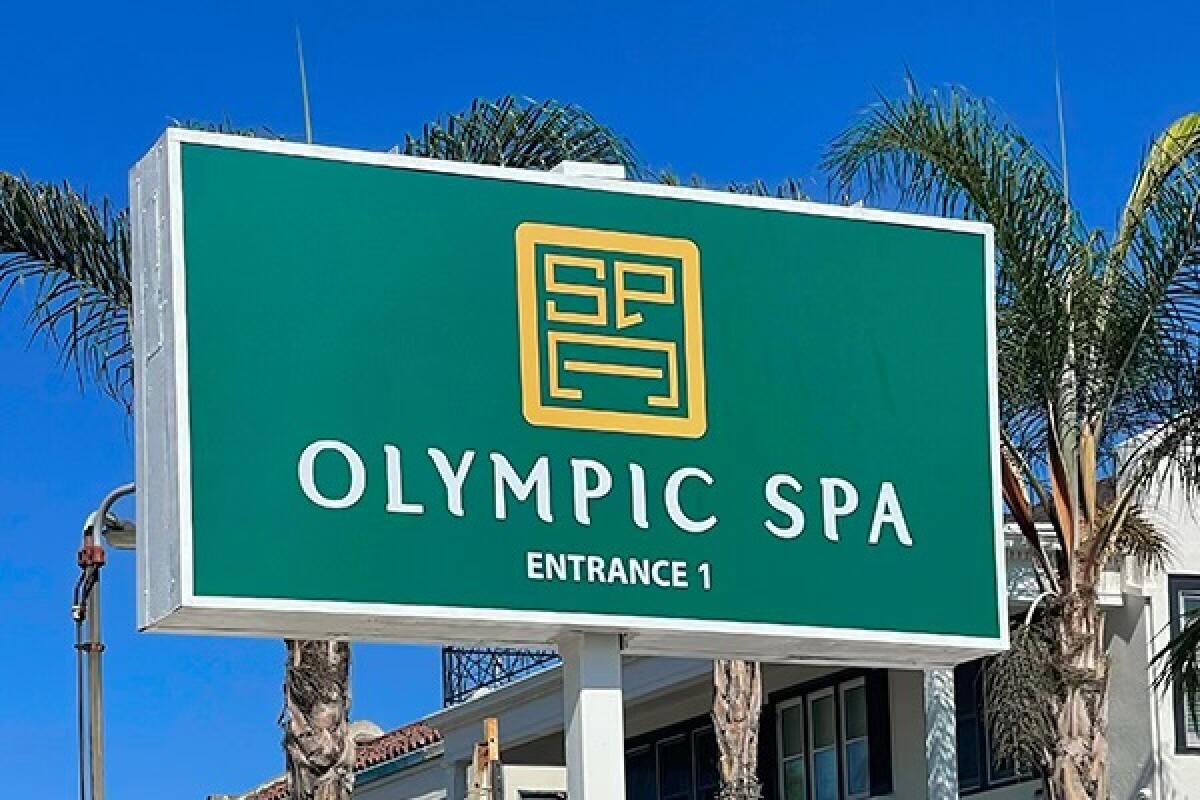 Indulge in the 'K-pop body treatment' at Olympic Spa (or shop for Korean beauty products to try at home)
碍辞谤别补迟辞飞苍' women-only Olympic Spa (marked on this map) offers massages, facials and body scrubs using popular products from Korea and Japan. There is even a "K-Pop body treatment" for those looking to achieve flawless and resilient skin like K-pop idols through a silk-mitt scrub, honey and jojoba oil massage and purifying face massage (this original Korean beauty ritual is said to have set off the K-spa craze). While there, take advantage of the variety of pools, saunas and lounges. There are memberships available, which lower the price of each treatment.
Century Day & Night Spa
offers separate spas for men and women, as well as jim jil bang (unisex spa experiences) for friends and family members to relax together. Beyond offering massages and body scrubs, the spa features a driving range for folks who want to improve their golf swing and even offers swimming lessons. Memberships are available.
If you'd rather buy Korean beauty products to use at home, there are several shops that sell popular brands like Etude House and TONYMOLY.
Palace Beauty Galleria
, in Koreatown Galleria, offers in-store and online shopping. Pro tip: To make sure you get the sale prices, order online for pickup at the store. If Palace Beauty doesn't have the product you need,
Aritaum AMORE
is on the same floor and offers a wide range of Korean skincare and makeup brands like Mamonde, Hanyul and IOPE.
More Info
Visit K-pop music video filming locations — IRL in L.A.
Downtown L.A.
Filming Location
Re-creating scenes from your favorite K-pop music videos might be easier than you think — many were filmed right here in Southern California. Jisoo of Blackpink's "
Flower
" was filmed at the historic
Millennium Biltmore
in downtown Los Angeles (marked on this map). BTS is no stranger to L.A., filming music videos at the Sepulveda Dam (
"翱苍"
), Los Angeles Theatre (
"Black Swan"
) and downtown L.A.'s Aliso Village (J-Hope's
"Chicken Noodle Soup"
). ITZY's
"滨肠测"
was filmed inside the the
Bradbury Building and Grand Central Market in downtown LA
.
If you're looking to pretend to be in a Stray Kids video
and
come out with a shiny vehicle, visit Beverly Car Wash in Montebello, seen in the
"Case 143" performance video
. K-drama fans, particularly those who love Lee Min-ho, probably know that 2013's "The Heirs" was filmed in parts of Los Angeles and Orange County, including in front of the Capitol Records building and at the Millennium Biltmore.
More Info
Release your inner K-pop idol at Shrine Room Karaoke
At the end of a stairwell that leads you underground, there's Shrine Room, a European-Egyptian crypt-inspired studio that has the best deals for late-night private room karaoke, a.k.a. noraebang. The system uses a YouTube karaoke search for song selections, so even the most obscure song can be found if it exists online. There are no limits to your set list, K-pop or otherwise.

Korean dishes like dukkboki (rice cakes) and galbi jjim (spicy braised short ribs) can be ordered in any of the 15 nightclub-style rooms. If it's your birthday, you get a free drink. Parking is valet, but there is street parking in the residential areas nearby.
More Info
Audition to become the next K-pop Idol at K-Pop Center at the Source OC
If you're looking for the SoCal mecca of Korean experiences, it's arguably in Orange County at
the Source OC
. Along with CGV Cinemas, Korean spa and beauty services, photo centers (Life4Cuts, Photogram OC), music shops and a huge variety of Korean restaurants, the Source has a
K-Pop Center
(marked on this map) for those looking to audition to become the next K-pop star. As Times journalist Drake Presto reported in the video
"How L.A. is training the next generation of K-pop idols,"
students receive weeks of intense dance and vocal instruction, and the top trainees are invited to audition for major K-pop labels such as HYBE, JYP, Pledis, Highline, Jellyfish and D-Nation. And for those of us not vying to become the next member of Blackpink, the Source hosts Random Play Dance, casual, large-scale events in which a random K-pop song is played and everyone who knows the choreography is invited to join in and dance, just for fun.
More Info
Have a star-studded meal at Soban Los Angeles
The Michelin-rated Soban has been around for more than 10 years and has been praised for its authentic Korean menu, garnering the attention of famous Korean industry folks including the cast and creative team of "Parasite," BigHit Entertainment's Bang PD and actor Lee Byung-hun. Reservations are highly recommended. Be sure to try the spicy octopus.
If Korean BBQ is more your style, the popular
Aghassi Gopchang
is the place to be for its roasted beef intestines. It does not take reservations, so expect to wait a while for seating. Many BTS ARMYs have taken a pilgrimage here after
BTS' Jin recommended the place himself
.
More Info
Get our L.A. Goes Out newsletter, with the week's best events, to help you explore and experience our city.
You may occasionally receive promotional content from the Los Angeles Times.