Trudeau says India may be linked to a Sikh activist's slaying in Canada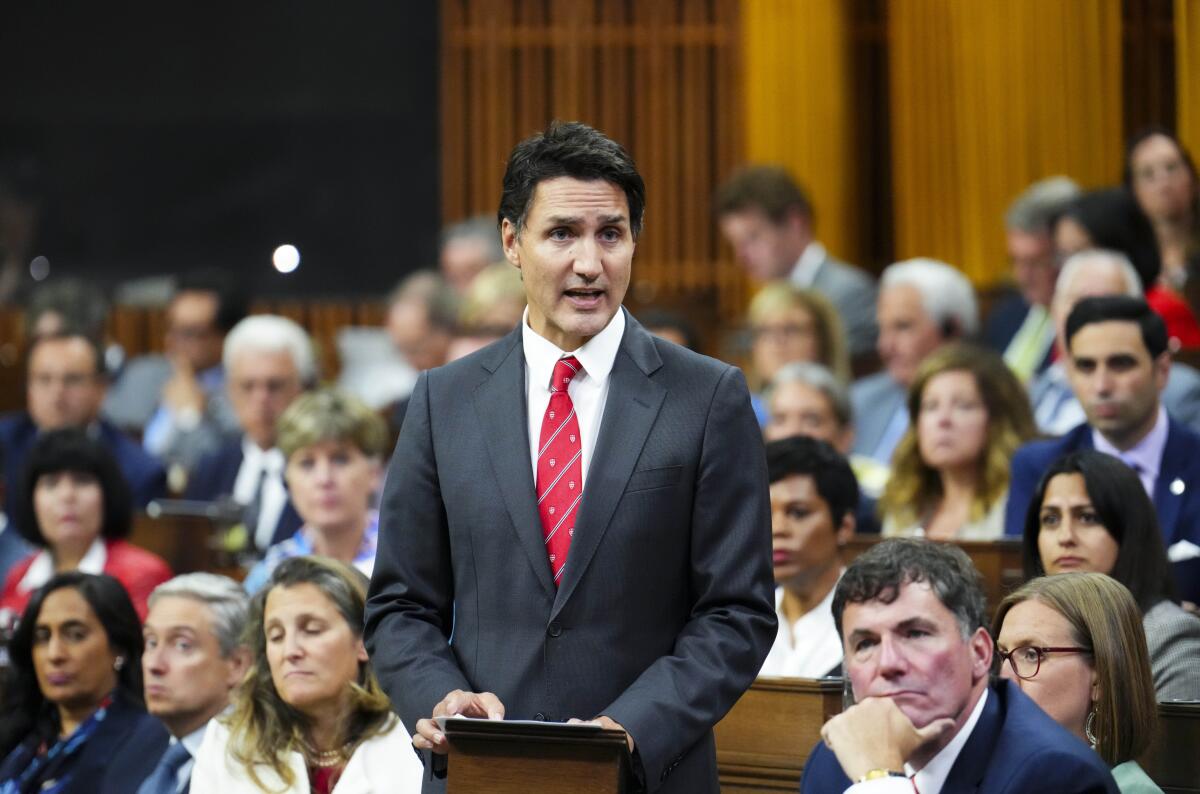 NEW DELHI —
Canada expelled a top Indian diplomat Monday as it investigates what Prime Minister Justin Trudeau called credible allegations that India's government may have had links to the assassination in Canada of a Sikh activist.
Trudeau said in Parliament that Canadian intelligence agencies have been looking into the allegations after Sikh leader Hardeep Singh Nijjar, a strong supporter of an independent Sikh homeland known as Khalistan, was gunned down June 18 outside a Sikh cultural center in Surrey, British Columbia.
The prime minister told Parliament that he brought up the slaying with Indian Prime Minister Narendra Modi at the Group of 20 major economies' summit last week. He also said he told Modi that any Indian government involvement would be unacceptable and that he asked for cooperation in the investigation.
Canadian Foreign Minister Mélanie Joly said the head of Indian intelligence in Canada has been expelled as a consequence.
"If proven true this would be a great violation of our sovereignty and of the most basic rule of how countries deal with each other," Joly said. "As a consequence we have expelled a top Indian diplomat."
The Indian Embassy in Ottawa did not immediately answer phone calls seeking comment.
President Biden emphasized the power of democracies as he hosted Indian Prime Minister Narendra Modi at the White House.
The expulsion comes amid tense relations between Canada and India. Trade talks have been derailed and Canada just canceled a trade mission to India that was planned for the fall.
At the G-20 meeting, Modi expressed "strong concerns" over Canada's handling of the Punjabi independence movement, according to a statement released by India's Foreign Ministry.
The statement described the Sikh movement as "promoting secessionism and inciting violence" against Indian diplomats. It called on Canada to work with India on what New Delhi said is a threat to the Canadian Indian diaspora.
Canada has more than 770,000 Sikhs, who make up about 2% of the total population.
"Over the past number of weeks Canadian security agencies have been actively pursuing credible allegations of a potential link between agents of the government of India and the killing of a Canadian citizen, Hardeep Singh Nijjar," Trudeau said.
He said Canada has expressed its deep concerns to the Indian government.
"Last week at the G-20 I brought them personally and directly to Prime Minister Modi in no uncertain terms," Trudeau said. "Any involvement of a foreign government in the killing of a Canadian citizen on Canadian soil is an unacceptable violation of our sovereignty."
Trudeau said his government has been working closely and coordinating with Canada's allies on the case.
India and Canada signed a treaty Friday that will make it easier for India to extradite Canadian-based Sikh extremists.
"In the strongest possible terms I continue to urge the government of India to cooperate with Canada to get to the bottom of this matter," he said.
Trudeau said he knows some members of the Indo-Canadian community feel angry or frightened, and he called for calm.
Public Safety Minister Dominic LeBlanc said Canada's national security advisor and its spy chief have traveled to India to meet their counterparts and to confront the Indian intelligence agencies with the allegations.
Three months ago, most Canadians had never heard of Harjit Singh Sajjan.
He called it an active homicide investigation led by the Royal Canadian Mounted Police.
Joly said Trudeau also the raised the matter with President Biden and U.K. Prime Minister Rishi Sunak.
Joly also said she would raise the issue with her peers in the Group of 7 leading industrialized nations Monday evening in New York City ahead of the United Nations General Assembly.
Opposition Conservative leader Pierre Poilievre said if the allegations are true, they represent "an outrageous affront to our sovereignty."
"Canadians deserve to be protected on Canadian soil. We call on the Indian government to act with utmost transparency as authorities investigate this murder, because the truth must come out," Poilievre said.
Opposition New Democratic leader Jagmeet Singh, who is also a Sikh, called it outrageous and shocking. Singh said he grew up hearing stories that challenging India's record on human rights might prevent you from getting a visa to travel there.
"But to hear the prime minister of Canada corroborate a potential link between a murder of a Canadian citizen on Canadian soil by a foreign government is something I could never have imagined," Singh said.
The Khalistan movement is banned in India, where officials see it and affiliated groups as a national security threat. But the movement still has some support in northern India and beyond, in countries such as Canada and the United Kingdom, which are home to a sizable Sikh diaspora.
Nijjar had talked about an unofficial Khalistan referendum vote seeking a separate Sikh state. The Indian government had offered a reward for information leading to Nijjar's arrest or apprehension last year. The reward was offered by India's National Investigation Agency, the country's counter-terrorism body.
The World Sikh Organization of Canada called Nijjar an outspoken supporter of Khalistan who "often led peaceful protests against the violation of human rights actively taking place in India and in support of Khalistan."
"Nijjar had publicly spoken of the threat to his life for months and said that he was targeted by Indian intelligence agencies," the group said in a statement.

Sign up for Essential California for the L.A. Times biggest news, features and recommendations in your inbox six days a week.
You may occasionally receive promotional content from the Los Angeles Times.