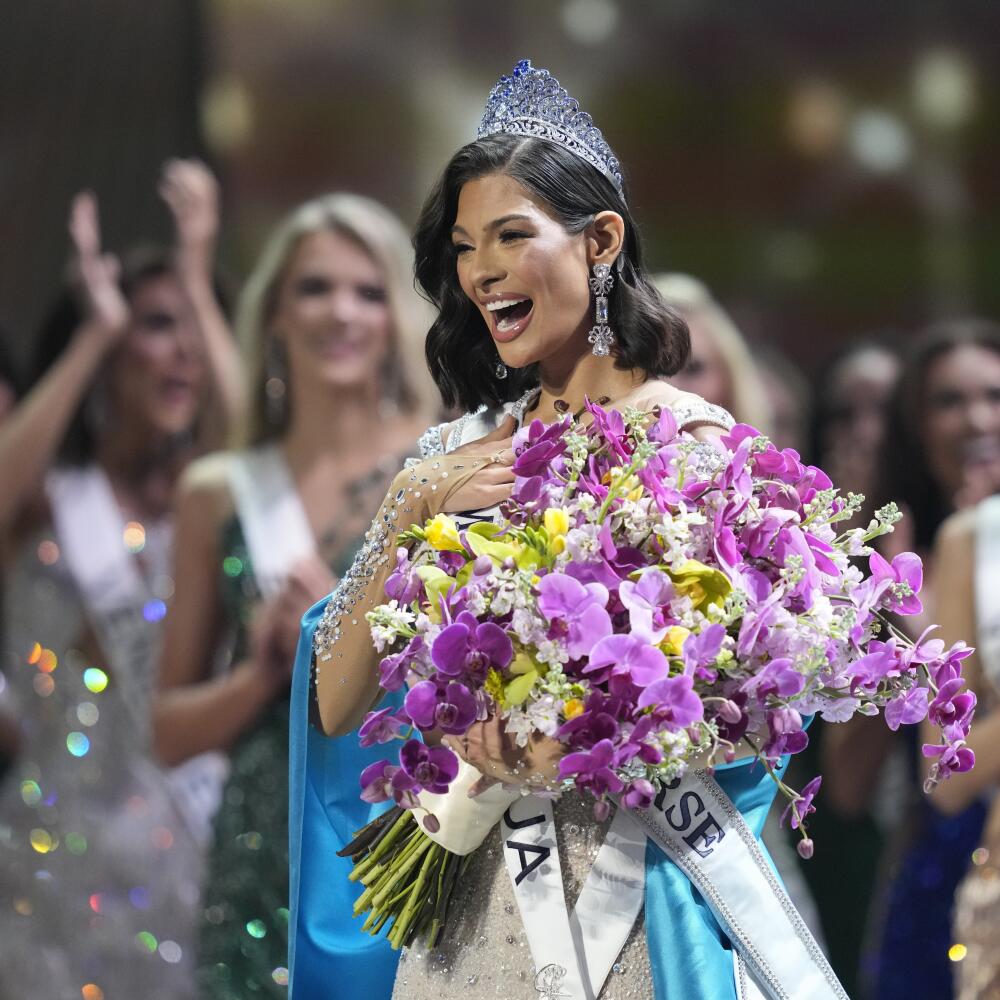 (Moises Castillo / Associated Press)
Editor's note: As we discussed how De Los should cover Miss Nicaragua Sheynnis Palacios winning Miss Universe over the weekend, L.A. Times designer Susana Sanchez, who is half Nicaraguan-Guatemalan, sent us a quick note about what it meant to her. We thought nothing encapsulates the significance for Central Americans better than what she wrote. Enjoy.
I spent all Sunday watching movies with my kids, and watching every single video of Miss Nicaragua Sheynnis Palacios winning Miss Universe on my iPad.
It was euphoric.
This feeling was felt on the streets of Nicaragua and from Miami to San Francisco. To see a Latina triunfar sent every Central American to jump, dance and scream for joy. It was pandemonium!!!
I called my mom, I texted my Nica primas who look like Sheyniss and we cried emojis! I was too tired to drive to the Mission in San Francisco to party with my Chavalos de Aquí y Allá friends but I was inspired to draw something!
I've cried so many tears of happiness, rewatching Sheyniss rock her catwalk and answer each pageant question with elegance, poise and not a single uhhhh. Sheyniss is the definition of flawless.
This is the first crown for Nicaragua and the first for a chica from Central America. I grew up watching these pageants with my mom and tias and always hoping to see Miss Guatemala or Miss Nicaragua make it to the top.
As a half Guatemalan and Nicaraguan kid, you never see your culture represented anywhere, unless it was something political and bad. I remember as a kid being made fun of because my culture was different, mixed and not Mexican.
And honestly, American education does a terrible job of teaching geography. To this day, some people don't know that Nicaragua exists. On Saturday night, everyone got to know Nicaragua and put some respect on her name.
Tres delegadas latinoamericanas estuvieron entre las primeras cinco finalistas, incluyendo a Palacios; Miss Puerto Rico, Karla Guilfú Acevedo, y Miss Colombia, Camila Avella
This is why I make cultured art — for 10-year-old Susy who didn't have this kind of representation growing up. Now we have Miss Universe! I drew Miss Universe 2023 Sheynnis Palacios, the 23-year-old mental health activist and audiovisual producer and animal rescuer, as a "Barbie of the World" in her crowning moment with her Nicaraguan sash.
Did you know Mattel does not have a single Central American Barbie? There's always a first and I'm here to get that going. Gracias, Sheyniss, for giving us this moment. We will be talking about this until the end of time and being louder than ever: Miss Nicaraguaaaaaaa is Miss Universe!