Messi World Cup jerseys could fetch more than $10 million at Sotheby's auction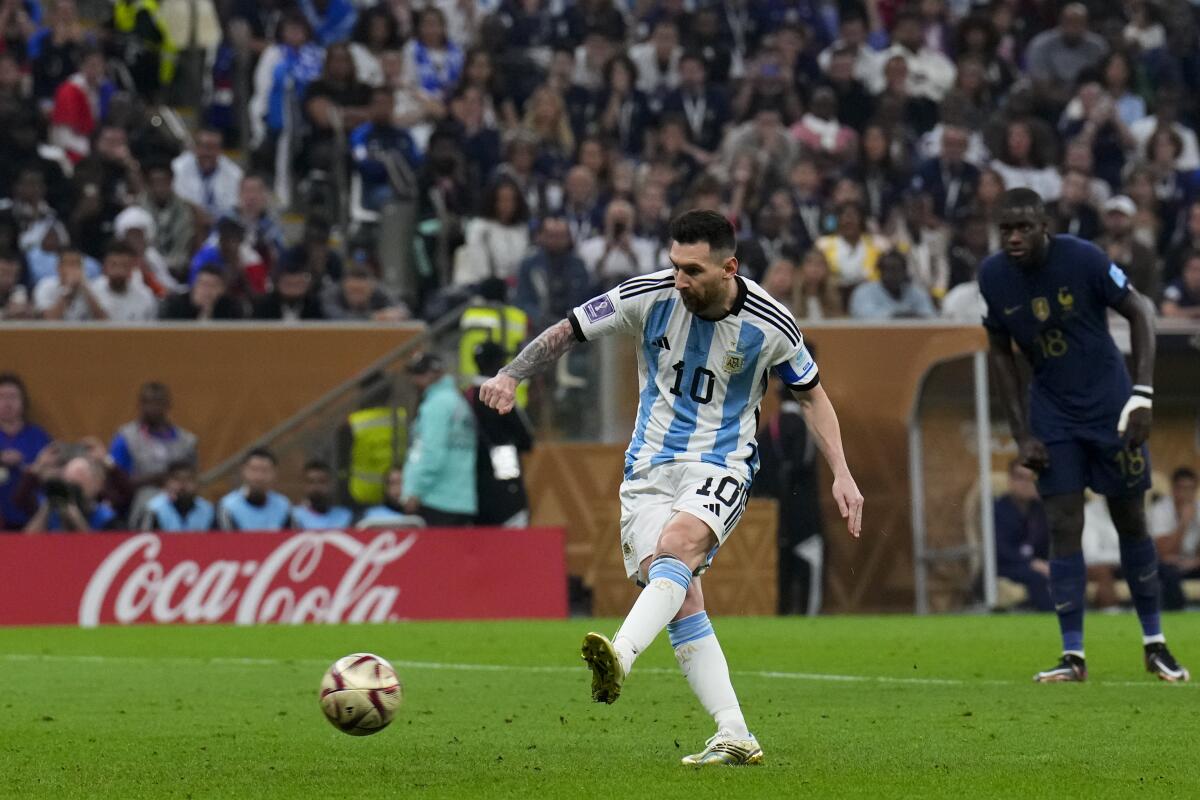 Sotheby's is set to auction off six jerseys worn by Lionel Messi during Argentina's winning run at last year's soccer World Cup in Qatar and thinks they could become the most valuable collection of sports memorabilia ever sold at potentially more than $10 million.
The auction house said Monday that it will put up for sale in New York six of the seven first-half jerseys the Argentina captain wore in Qatar, including the one he donned in the dramatic win in the final against France. Like many soccer players, he often swaps his shirt with someone from the opposing side at the end of each match, his being the most-sought after.
In defeating France in a penalty shootout after a 3-3 draw at Lusail Stadium, Argentina won its third World Cup. Messi scored two of his country's goals.
Sotheby's, which was founded in London in 1744, will offer Messi's jerseys between Nov. 30 and Dec. 14. A free exhibition at the company's New York headquarters will allow the public to see the shirts during the bidding dates.
Lionel Messi plays his first MLS game in Southern California vs. LAFC, which knows it'll take an entire team effort to slow him and beat Inter Miami.
The auction house is working with U.S.-based tech startup AC Momento, which partners with high-profile athletes to help manage their match-worn memorabilia.
The current record for a game-worn item of sports memorabilia is Michael Jordan's 1998 NBA Finals jersey, which sold for $10.1 million at Sotheby's in New York in September 2022.
The current record for a game-worn item of soccer memorabilia is a jersey worn by Diego Maradona in Argentina's 1986 quarterfinal 2-1 victory over England, where he infamously — and undetected by referees — scored one goal with his hand, a goal he said owed much to the "Hand of God." That sold for $9.3 million at Sotheby's in London in May 2022.
Winning, and lifting, the World Cup last year meant Messi emulated the feat of Maradona in 1986, the second time Argentina won the trophy.
A portion of the proceeds from the auction will be donated to the UNICAS Project, led by Sant Joan de Déu Barcelona Children's Hospital with the support of the Leo Messi Foundation, to meet the needs of children suffering from rare diseases.
Lionel Messi and Inter Miami could meet LAFC in the Leagues Cup final, but soccer's most electrifying player might be causing a radical shift in MLS.
The 36-year-old Messi, who currently plays for Inter Miami in MLS, spent 17 years at Barcelona, winning Spain's league on numerous occasions and the European Champions League on four occasions. He has won the Ballon d'Or, which is presented annually to the game's top player, a record eight times.
But it was his belated triumph in Qatar that cemented his place among the all-time greats Pele and Maradona, and made his jerseys potentially so valuable.