Droves of Californians are moving to Texas. Here's the life they are finding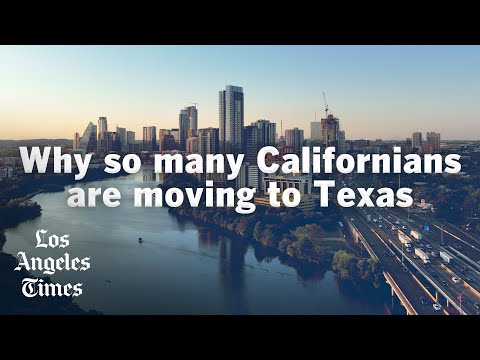 The California exodus isn't over. About 60,000 more people moved from California to Texas than the other way in 2022. Experts point to housing, taxes and politics.
Jayne Jordan, 61, was a lifelong Californian until August, when she sold her home in Corona and moved to Azle, Texas.
Jordan wanted to stay close to her daughter and grandchildren, who are planning to move from Irvine to the Lone Star State next year in order to buy a home.
When she joined a Facebook group of California migrants to Texas, she found a community willing to help her choose the right moving company and weigh in on which route to take for the 1,360-mile drive.
She soon found through the Facebook group that her neighbor across the street in Azle had also moved from the same neighborhood in Corona.
"It's a small world," Jordan said. "A lot of people from California are moving here."
Jordan's move is reflective of a larger trend for California, which has seen more residents moving out over the last few years than new people moving in. In 2022, 818,000 Californians left for other states, while 476,000 moved in, resulting in a total domestic loss of 342,000 to the Golden State, according to newly released census data. But some states have been taking in more of California's former residents than others, with Texas leading in that category.
In 41 U.S. states, more people arrived from California than moved to California last year, according to the data.
More than 100,000 Californians moved to Texas last year, compared with around 40,000 who made the opposite move. Florida drew nearly 75,000 people from California, with 30,000 moving in the opposite direction. Washington, Nevada and Florida each saw around 50,000 Californian arrivals and far fewer people move to California.
For the record:
10:05 a.m. Nov. 7, 2023A previous version of this article said that 42 Californians moved to West Virginia in 2022. That's the number of West Virginians who moved to California that year.
Only 42 West Virginians moved to California in 2022, by far the lowest total of any state.
Subscribers get exclusive access to this story
We're offering L.A. Times subscribers special access to our best journalism. Thank you for your support.

Explore more Subscriber Exclusive content.
New Jersey, the state that most bucked the trend, had around 6,600 more people move to California than arrived from the state.
Experts attribute the exodus from California primarily to the high cost of housing in the state but also to issues such as crime, politics and traffic.
As Texas booms, the state will have to contend with many of the same issues that are driving California to leave, says Mechele Dickerson, a professor of law at the University of Texas at Austin and an expert on the housing crisis.
Texas is appealing to Californians who are looking for lower housing costs and don't mind the trade-offs.
"We have more land that can be developed," Dickerson said.
Between July 2020 and July 2022, Texas' housing stock grew by almost 5% — the third-biggest gain of any state. California's housing stock increased by just 1.6% during the span.
In raw numbers, Texas added more than twice as many housing units as did California.
"Some people blame Californians for driving up housing prices, particularly in the city of Austin," Dickerson said.
As buyers "come here with cash in hand having sold their homes in California," she said, longtime renters are priced out of cities like Austin.
Those renters are pushed to suburbs and exurbs, which are seeing booms comparable to those in California's suburban and exurban areas.
"We used to laugh at those people in L.A." because of their long commutes, Dickerson said, "and now that's what we're seeing" as people move farther from city centers in search of affordability.
Texas is seeing rising home values that are making some areas less affordable, and cities are also grappling with other social issues Californians are familiar with.
"We have been challenged by what to do with a growing unhoused population" as low-income people are displaced by the cascading effects of a housing crisis, she said.
Though Texas has added a lot of housing, "we're building more on the high end and not affordable housing," Dickerson said.
California saw an exodus during the COVID-19 pandemic, as remote work and soaring home values had some residents moving to cheaper locales. Recent data show the so-called exodus — which hit coastal cities such as Los Angeles and San Francisco particularly hard — eased considerably in the last two years. The California recovery has been uneven, with some suburban areas seeing major booms while downtown San Francisco continues to struggle.
But those who have made the move say they are surprised how many transplanted Californians they find in Texas.
Locally, Dickerson said, there is a common joke: "We are becoming California, not just because the Californians are moving here."
Issues of traffic, homelessness and affordability may have driven people to abandon California, but those issues may not be far behind in Texas' major cities, either.
The Volkswagen SUV whizzed past the Texas state line, a U-Haul trailer in tow, as it made its way toward Amarillo.
Marie Bailey, 44, moved from El Segundo to a Dallas-Fort Worth suburb in 2017. She and her husband built a home for $750,000, while a "tiny fixer upper" in El Segundo would've cost upward of $1 million.
The couple quickly figured out that they could capitalize on the niche in the real estate market for California migrants to Texas.
For years, Bailey has administered the Facebook group where Jayne Jordan and 45,000 others swap recommendations on how to make the move. She runs a real estate firm that places Californians all over the state.
"99% of our clientele are people moving from California," Bailey said. As for why people make the move, "No. 1 is cost of living and No. 2 is politics."
Texas is Republican red in the same way California is a bastion of Democratic blue, battling on issues including abortion, gun control, immigration and LGBTQ+ rights. The political difference might make some hesitant to make the move, but for others it is a major bonus.
More than half of California voters have considered moving out of state. Many who do choose Texas, where lower housing costs come with trade-offs.
Bailey's husband, who was previously employed by the UCLA medical system, "wouldn't even talk about his politics because he was afraid of losing his job," she said.
"Nowhere is perfect," Bailey said, "but we fit in a lot better here."
Though clients miss the beaches and "the weather is more extreme" in Texas, by and large those who have made the move with Bailey's firm are happy, she said.
Plus, she added, "We like not having to pay $5 or $6 per gallon in gas." The average price of a gallon of gas in Texas was $2.91 on Nov. 3 versus $5.18 in California.
Many of the states that have provided refuges for Californians fleeing high housing prices added much more housing in the last two years than the Golden State did.
Back in Azle, Jordan and her husband are adjusting to their new life. Their family home in Corona sold in four days and they now live in a new custom build.
It's a more rural community than what they had in Corona, so "there's a lot of really big bugs that we're not used to," but otherwise Jordan and her husband are settling in.
"We have noticed people in Texas are far more friendly than in California," she said, and the cost of living is far lower.
She also likes living in a place with less fire danger and less air pollution compared with the Inland Empire.
"No, don't miss it at all," she said of the state she called home for six decades.
Watch L.A. Times Today at 7 p.m. on Spectrum News 1 on Channel 1 or live stream on the Spectrum News App. Palos Verdes Peninsula and Orange County viewers can watch on Cox Systems on channel 99.