(Wally Skalij / Los Angeles Times)
The game started under a thicket of silver and gray clouds. It ended even more ominously for the home team.
As USC players trudged sullenly toward the tunnel at the Coliseum, their UCLA counterparts sprinted across the field to reclaim the Victory Bell painted in red, at least for the moment.
The celebratory tour made its next stop in a corner of the stadium overflowing with jubilant Bruins fans who chanted a vulgar two-word sendoff for fellow rivals headed to the Big Ten.
The revelry was just getting started.
With a helpful tug from UCLA athletic director Martin Jarmond, the bell made its way up the tunnel and into the Bruins locker room. That's where Chip Kelly rang it in celebration of his team's 38-20 victory, drowning out the noise that had surrounded the beleaguered coach all week.
"Didn't bother this team one bit," Kelly said of the speculation about his job status, "and you could see by the performance today."
In a game matching strength (USC's offense) versus strength (UCLA's defense) and weakness (USC's defense) versus weakness (UCLA's offense), the Bruins dominated across the board while pulling together to win one for the Chipper.
The showing was all the more stunning considering it came only a week after a limp performance against Arizona State in which UCLA managed only seven points.
1
2
3
1. UCLA quarterback Ethan Garbers passes during a 38-20 victory over USC at the Coliseum on Saturday. 2. UCLA running back T.J. Harden (25) celebrates with UCLA offensive lineman Josh Carlin after scoring a touchdown against USC. 3. USC quarterback Caleb Williams throws a pass as he is hit by UCLA defensive lineman Keanu Williams during the first half. (Gina Ferazzi / Los Angeles Times)
The Bruins' offense sprung back to life under quarterback Ethan Garbers, who threw for 155 yards and three touchdowns after sitting out last week's loss because of a foot injury. Two of the touchdowns went to tight end Hudson Habermehl, who slipped two tackles and plunged into the end zone between three defenders on a 15-yard catch early in the fourth.
"Today was probably one of the better days of my life for, sure," Garbers said shortly after a smiling Kelly waved at him through a hole in the back of the media tent. "Had some dreams about this as a little kid."
UCLA running back T.J. Harden helped make them come true, snagging a seven-yard touchdown pass early in the third quarter to extend the Bruins' advantage to 21-10. Harden also ran for the game's first score on a one-yard touchdown out of the T formation and finished with a career-high 142 yards rushing in 22 carries.
Putting USC's running game on lockdown while keeping quarterback Caleb Williams on the run in what might have been his final game as a Trojan, UCLA's defense gave up only three rushing yards and sacked Williams four times. Williams rolled up 384 passing yards but managed one touchdown while failing to sustain a rhythm as USC (7-5, 5-4) lost for the fifth time in six games.
"You may lose a close one here and there where it's just right there one play here and there," Trojans coach Lincoln Riley said, "but to not give yourself a chance like today, it's unacceptable. So I gotta be better. There's no way to look at this and say I did any kind of a good job and got the result that we did in the second half of the season. So I gotta be better in every single way possible."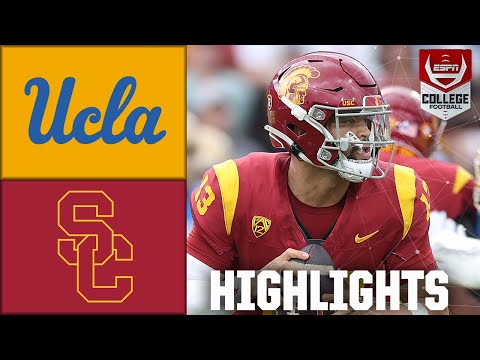 Highlights from UCLA's 38-20 win over USC at the Coliseum on Saturday afternoon.
UCLA (7-4, 4-4) also forced three turnovers while committing none. The game was essentially decided early in the third quarter when Bruins cornerback Jaylin Davies knocked the ball out of running back MarShawn Lloyd's hands, allowing nickel back Alex Johnson to scoop up the fumble and run 11 yards into the end zone.
UCLA's lead stood at 28-10, the only blemish coming when edge rusher Carl Jones Jr. flung the ball into the stands instead of giving it to his teammate.
"I talked to Carl," Kelly deadpanned. "He told me he loved me and I was like 'That doesn't soften the blow.'"
Kelly said he was not troubled by a Bruin Report Online story early in the week stating he was likely to be fired.
After a UCLA official informed Kelly about the report, the coach said, Jarmond told him "it was inaccurate, inappropriate. I said, 'All right, let's go back to work.'
1
2
3
4
1. UCLA cornerback Devin Kirkwood (3) celebrates after intercepting a pass from USC quarterback Caleb Williams in the first half. 2. UCLA running back Carson Steele breaks free from tackle attempts by USC defensive lineman Stanley Ta'ufo'ou (47) and linebacker Mason Cobb (13) in the second half. (Gina Ferazzi / Los Angeles Times) 3. UCLA tight end Hudson Habermehl dives into the end zone past USC safety Anthony Beavers Jr. (15) and defensive end Braylan Shelby (34) for a touchdown in the second half. 4. UCLA running back T.J. Harden runs with the ball as USC cornerback Domani Jackson tries to tackle him during the second half. (Wally Skalij / Los Angeles Times)
"I don't pay attention to that stuff. I don't read that stuff, I've never seen that stuff — I talk about being the most prepared and the least distracted.
"Then, why would I let something distract me? And if that's the case, then I'm a fool 'cause I'm not doing what I tell our players to do."
As evidence of how locked in his team was, Kelly relayed a story about edge rusher Laiatu Latu being informed this week he was a finalist for the Lombardi Award that goes to the nation's top lineman. When Kelly told him he intended to share the news with the team, Latu told him not to.
"I just want to win the game this week," Latu said.
After clobbering Williams on back-to-back plays for sacks that forced a field goal and making a team-high seven tackles, Latu shared a hug with his mother, Kerry.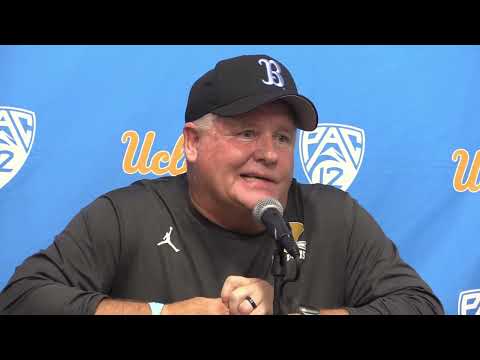 There were lots of tender moments among the Bruins. Kelly retold the story of legendary UCLA coach Terry Donahue advising him to beat the Trojans, noting he had gone 10-9 in the rivalry.
With the win in the teams' final game as Pac-12 rivals, Kelly's record against USC stands at 3-3.
The coach might have just won himself a chance to keep coaching in the rivalry for years to come.
"I mean, this entire performance was for him," Garbers said. "It shows a lot about our team and a lot about his culture that we can come from last week ... and come out and do this and really shock the world a little bit."
Lincoln Riley was supposed to transform USC back into a college football powerhouse. Instead, the Trojans are mired in mediocrity and it's his fault.