Here are California's 10 most coveted state campgrounds, with tips on how to book them
For millions of outdoorsy Californians, fresh air is about to meet fine print.
On Jan. 1, new rules take effect at about 150 of California's state campgrounds. The changes are intended to reduce no-shows and give more people access to the most popular spots, and they'll be followed by a new reservation lottery system at up to five high-demand campgrounds by January 2025.
In a park system with about 15,000 campsites and lodgings that attract an estimated 6.5 million campers yearly, these changes, signed into law Oct. 8, mark a substantial shift.
They may be a blow to seasoned campers accustomed to working the system — and a comfort to those who have logged onto the state reservation system at 8:05 a.m., six months ahead of their target date, and found every spot already claimed.
Which campgrounds will switch to a lottery? State Parks and Recreation officials haven't said (and they prefer the phrase "reservation drawing"). But when asked to name the most coveted campgrounds, they came up with the top 10 list below, based on 2023 summer occupancy between Memorial Day and Labor Day.
The most-sought-after summer campground in the state park system, parks officials say, is Pismo State Beach. All 10 campgrounds are on the coast and six are Southern California beaches.
Whether destined for a switch to lottery systems or not, all state campgrounds and lodgings that take advance reservations through ReserveCalifornia are covered by many provisions of the new legislation, starting Jan. 1. Among the rules:

If a traveler cancels a reservation at least seven days before the stay is to begin, that traveler will receive a refund (less reservation fees).

If a traveler cancels a reservation two to six days before the reservation start date, that traveler "may forfeit" the cost of the first night, plus reservation fees.

Travelers who fail to show up for a reservation or cancel less than 24 hours before the reservation start time will forfeit the entire cost of the reservation, with no credit toward future stays. This is substantially stiffer than the previous penalty of one night's cost, the reservation fee and a $7.99 cancellation fee.

Travelers can't reserve a site for more than seven consecutive nights in peak season.

Travelers can't book more than 30 nights per year at the same site in the same park or unit.

If a traveler fails to show up for a reservation three times in one calendar year, system-wide, that person will be blocked from advance reservations system-wide for up to a year. (Under the law, all reservation-holders are to receive two reminder emails before their visit dates, and those reminders will include the new cancellation policies.)

In cases where a traveler cancels a reservation at least three days ahead, the freed-up campsite or lodging site will be added again to the state's online reservation system.
In large part, the new rules are an update to the booking system the state switched to in 2017, ReserveCalifornia.com, and a pandemic-era surge in camping and other outdoor activities.
Assemblywoman Rebecca Bauer-Kahan (D-Orinda) introduced the rules through Assembly Bill 618.
In deciding which campgrounds to include in the lottery program, the parks department will choose "based on units that have the most booking interest six months before the reservation date," the law says. The law requires the parks department to try the new system through at least Jan. 1, 2029.
As they develop the new plan, parks officials will be looking closely at Mt. Tamalpais State Park, where a pilot program will use a lottery approach to handle bookings for the park's Steep Ravine Cabins beginning next summer.
ReserveCalifornia.com manages about 13,000 campsites at about 150 state parks with campgrounds, along with about 2,000 cabins, yurts and other lodgings. It typically accepts reservations six months before the arrival date, opening at 8 a.m. daily. In addition to nightly rates for camping, ReserveCalifornia.com charges a nonrefundable $7.99 reservation processing fee.
Parks officials say the top 10 busiest summer campgrounds had occupancy rates of from 94% to 98% this past summer. More details on campgrounds are available through nongovernment sites like hipcamp.com and californiasbestcamping.com.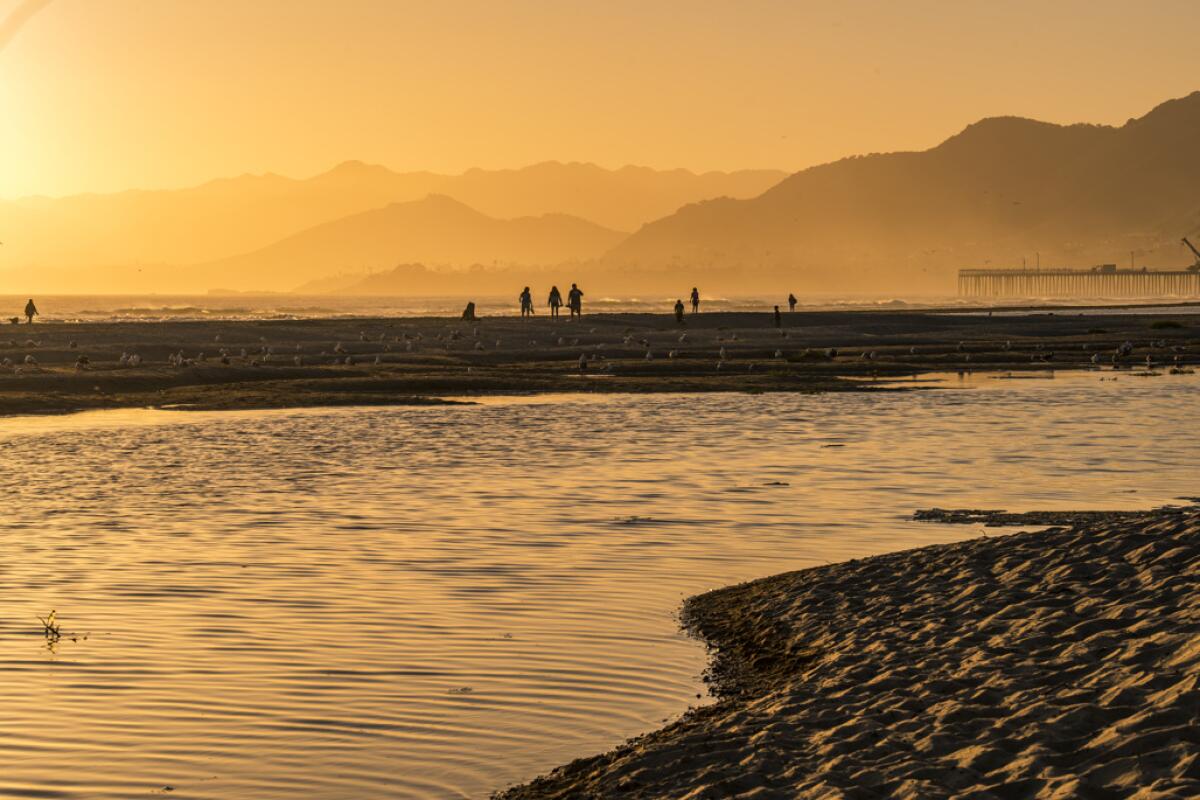 Pismo State Beach, San Luis Obispo County
San Luis Obispo
Campground
Pismo's beaches are among the most popular in the Central Coast. The state beach's North Beach Campground, which neighbors the park's Monarch Butterfly Grove, has 103 sites.

The nearby Oceano Campground, also within the state beach between the beach and Oceano Lagoon, offers 82 campsites. The Oceano Campground closely neighbors the Oeano Dunes State Vehicle Recreation Area.

Campsites start at $25 nightly. This past summer, these campgrounds' occupancy rate was 98% — highest among the roughly 150 state campgrounds in California.
Crystal Cove State Park
Yes, you can camp at Crystal Cove. But the 2,791-acre state park is most famed for its rustic beach cottages, many of which predate World War II, and are scattered near the park's 3.2 miles of coastline.
Though there are 46 cottages in the park's historic district (including one that's now a restaurant, the
Beachcomber
), many still need restoration and just 21 are available to rent. Thus competition is stiff. This past summer, the cottages were 96% occupied.
Units
include one- and two-bedroom houses (priced at $222 to $313 nightly), along with studios and hostel-style dormitories ($49 to $94 per room).
As for the camping, the park's bluff-top Moro Campground includes 58 family campsites with picnic tables. Twenty-eight of those sites are designed for RVs and trailers. Rates generally run $38.50 to $75 nightly.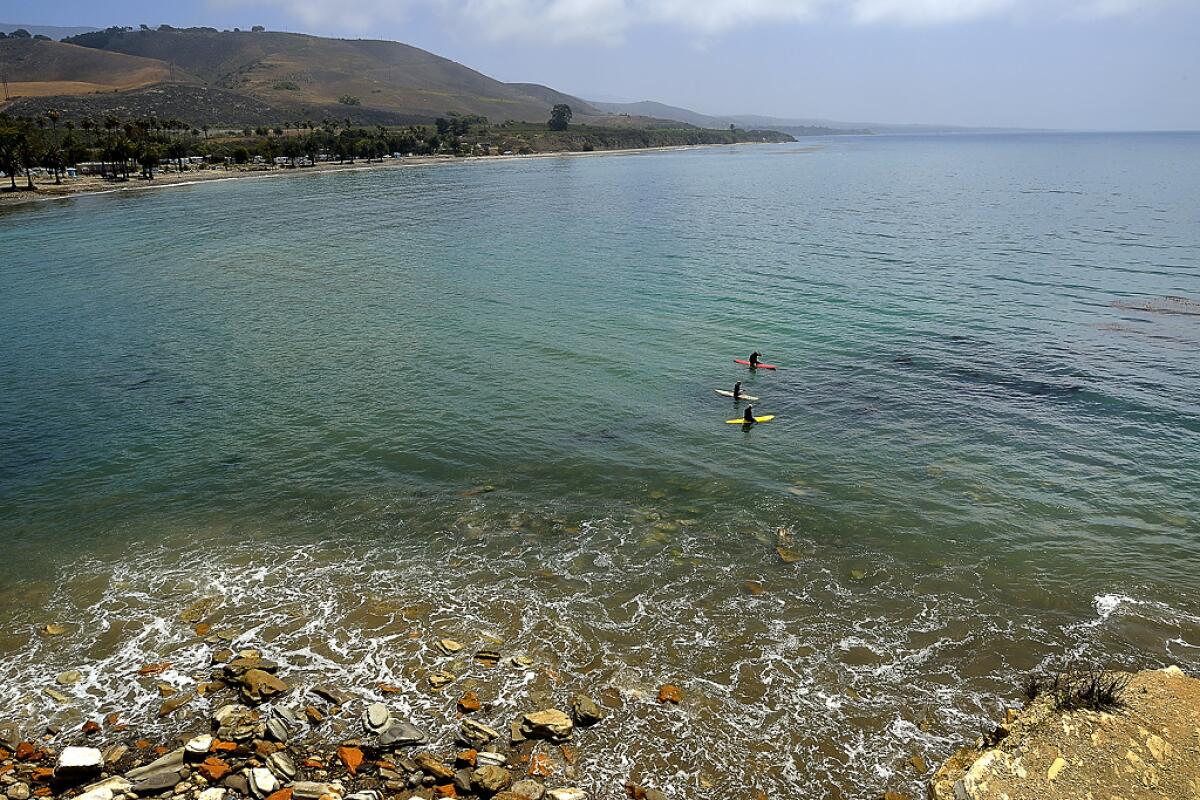 Refugio State Beach
Refugio is just west of El Capitan State Beach before the Gaviota Pass carries northbound traffic inland on the 101 Freeway.
The campground, set between the beach and railroad tracks, is bisected by Refugio Creek. Palm trees offer shade, and when visibility is good, you can see several of the Channel Islands. There are 67 campsites, typically $45 nightly. Occupancy this past summer: 96%.
Trailers can be rented and delivered to the park from
101 RV Rentals
, which does the same at Carpinteria, El Capitan and Gaviota state beaches. Beach wheelchairs are available.
Half Moon Bay State Beach, San Mateo County
The state beach area features four distinct beaches along 2 miles of coastline, including Francis Beach, where the campground is. Francis Beach has 53 campsites, $35 to $65 per night, each with picnic table and fire ring. Forty of the sites have electrical hookups. All can accommodate tents and four are tent-only. Occupancy this past summer: 96%.
Doheny State Beach
This Dana Point beach has a campground at its southern end, a five-acre lawn and tidepools and surfing at its northern end. It might also win you trivia points: It was California's first state beach, donated by oilman Edward L. Doheny in 1931.

The campground, separate by San Juan Creek from other parts of the state beach, includes 118 family campsites, generally $50 to $65 nightly. This past summer, its occupancy rate was 95%.
Bolsa Chica State Beach, Orange County
Huntington Beach
Campground
Bolsa Chica State Beach's campground offers 55 RV-only spots, $60 per night and up, no tent camping. The beach includes a 3-mile stretch of shoreline and about 200 fire rings.

The campground's occupancy rate this past summer: 95%.

The fire rings are available 6 a.m. to 10 p.m. daily, first-come, first-serve. A beach wheelchair is available for loan. Alcohol, charcoal grills, balloons and pi?atas are forbidden.
San Clemente State Beach
San Clemente State Beach includes a mile of beach at the foot of a steep bluff. The campground includes about 160 sites, of which sites 1-72 are for RVs (typically $70 per night). The rest are for tent-camping (typically $45 nightly). This past summer's occupancy rate: 95%.
Also: The companies
Luv 2 Camp
and
the Holidays
rent out and deliver trailers and RVs at San Clemente, Bolsa Chica, Crystal Cove Moro Campground, Doheny and San Onofre State Beach campgrounds.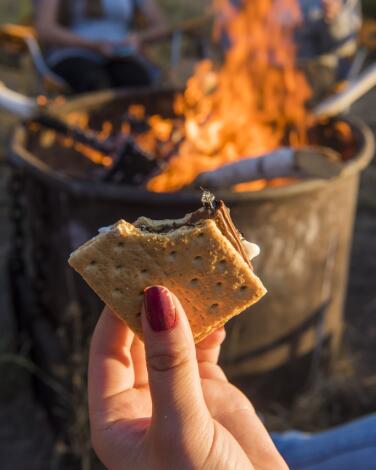 New Brighton State Beach
New Brighton is a small state beach, just 93 acres. But its position is prime, just south of downtown Capitola in Santa Cruz County, within a short walk of Seacliff State Beach.

The area includes thickly forested bluffs with views of Monterey Bay, a landscape that took some lumps in the winter storms of 2022-23. New Brighton's 111 campsites remain open, including 11 with RV hookups and four for tents only. They typically cost $35 to $50 per night. Their occupancy rate this past summer: 94%.
San Elijo State Beach, San Diego County
San Diego County
Campground
San Elijo State Beach has two miles of coastline and 171 campsites. Its immediate neighbor to the south is Cardiff State Beach (which has more beach access but no campground).

Camping rates start at $50 per night in the northern and middle sections of the campground and $15 in the southern section for hikers and bikers. Be warned: There's no Wi-Fi available at San Elijo State Beach.

Campground occupancy rate this past summer: 94%.
Morro Bay State Park
San Luis Obispo
Campground
Morro Bay State Park is 13 miles west of San Luis Obispo.
The park includes much of Morro Bay, a lagoon, legions of seabirds and, of course, Morro Rock, which rises more than 570 feet from the shoreline (and is off-limits to climbers). The park has a
肠补蹿é
, a
marina
, several miles of trails (many of them open to mountain bikes) and an 18-hole public
golf course
.
The campground has 134 family campsites, each with a fire ring, a picnic table and a nearby fresh water spigot. Some 30 campsites have RV hookups. Campsite prices are typically $35 to $50 nightly. Campground occupancy this past summer: 94%.
There's one company with a permit to set up and rent out RVs and campers at the campground:
RV Rentals on the Central Coast
.