Illustration by Giordano Poloni / For The Times; animation by Jess Hutchison / Los Angeles Times
For those tricky loved ones who don't want anything for the holidays, it never hurts to spend some quality time together. These adventures around Southern California, which range from relaxing spa days to feeding and holding wild animals, are sure to make lasting memories for the both of you.
If you make a purchase using some of our links, the L.A. Times may be compensated.
Working on your holiday shopping? We've got you covered with recommendations for the best gifts to find in L.A.

Take a romantic gondola ride through the canals of Long Beach
Picture this: You're sipping a glass of wine as a Venetian-style gondolier guides you through the narrow canals and low bridges of … Long Beach, California.
Many Angelenos might not know it, but Naples (as in the neighborhood of islands in Long Beach, not the city in Italy) is one of the only places in the world where you can take an authentic Venetian gondola ride aside from the actual canals of Venice, Italy. Founded in 1982, Gondola Getaway is both the oldest and largest fleet of gondolas in the United States, offering rides for duos and larger groups along the Naples Canals. The 50-minute-long rides are a perfect romantic date night for two, and each ride is led by a gondolier who has been trained in Venetian rowing techniques and briefed on local fun facts that cover basically questions you might have while on board. Among the options are private cruises for two, and Gondola Getaway provides ice buckets and cups for whatever beverages you choose to bring. — Julia Carmel
$120 for private cruises for two at Gondola Getaway
Explore the backroads of Catalina and try to spot a few bison
Most of the people visiting Catalina will only ever see the few miles surrounding Avalon, the island's only incorporated city. But beyond Avalon and the small village of Two Harbors, there are over 165 miles of roads that carve through the beautiful island, most of which are maintained by the Catalina Island Conservancy.
So who would be better to show you around those roads than the conservancy? The guides can teach passengers about Catalina's unique endemic plants and wildlife while showing some of the best vistas around the island. Though tours can vary depending on passenger interests, they can often stop at Airport in the Sky, an old World War II bunker and the Ackerman Native Plant Nursery. Though there's never a guarantee of spotting certain wildlife, there's a good chance passengers could see squirrels, foxes, bald eagles and, of course, bison.
"In 1924, 14 Bison were brought to Catalina Island as part of a film production for the adaptation of a Zane Grey novel," explained Jessica Boudevin, the senior manager of communications for the Catalina Island Conservancy. "It turns out that bison can be a little bit tricky to round up, and so they remain here." — J.C.
$99 for a 2-hour eco tour and $149 for a 3-hour eco tour at Catalina Island Conservancy
Soak away your worries at Glen Ivy Hot Springs
"People usually call this Disneyland for adults," my manicurist said as we talked about Glen Ivy, and after spending a full day there, I understood what she meant. With 19 pools, including mineral baths, hot and cold plunge pools, and a saline pool, there are plenty of places to soak your troubles away. There's also a delightful red clay pool more commonly known as Club Mud, where you can slather yourself in a mixture of clay and mineral water that can soften your skin.
Spas usually require visitors to purchase a service for admission, but Glen Ivy sells admission-only day passes starting at $70 per person. (You can sign up for additional services when you arrive if they're still available.) Purchasing a service also reduces the admission price on certain days. I'd recommend showing up as early as possible to make the most of admission, staying until the end of the day (when it's easy to have an entire pool to yourself), and wearing a darker-colored bathing suit for Club Mud. There are also four restaurants and bars inside Glen Ivy, which makes it easy to stay for the day. — J.C.
$70 for admission only (Monday-Friday) at Glen Ivy Hot Springs
Feed those 'bad boys' at OstrichLand USA
I'm going to keep it real with you. Ostriches are the kind of animal that you should be afraid of. They're usually about 6 feet tall, weigh a solid 200 pounds and have only two toes (which allows them to run at speeds up to 43 miles per hour). And they like to bite. Now for $7 per person and an extra $1 for a feed bowl, you can get up close and personal with more than 100 of these odd and toothless creatures at OstrichLand USA in Solvang.
With that said, OstrichLand is probably the safest place you could interact with an emu or ostrich because all the birds are behind fences, and signs advise visitors to hold the feed pans with two hands. Inside the shop, you'll find souvenirs including fresh ostrich eggs (which go for $60 a pop), ostrich hand puppets, and a collection of glass-encased eggs signed by celebrities including Khloé Kardashian. Open from 9 a.m. to 6 p.m. every day, it's a perfect stop to pair with a visit to Solvang, which has four wooden windmills within four blocks and is known as the "Danish Capital of America." — J.C.
$7 per person and an extra $1 for a feed bowl at OstrichLand USA
Explore the most captivating experiences in California, whip up 12 days of holiday cookies, find recipes for the best jams and preserves and much more with gifts from Shop L.A. Times.
Spend a sweet night at the Madonna Inn
Just a year before Barbie debuted on store shelves, a bright pink dream house with 12 bedrooms opened in San Luis Obispo. But this place wasn't a contrived advertising stunt; it was a brand-new honeymoon haven called the Madonna Inn. (Although they're entirely unrelated, pop star Madonna was also coincidentally born in 1958, just a few months before the inn opened.)
And over the last 65 years, Alex and Phyllis Madonna's motel won the hearts and attention of thousands of road trippers going up and down the 101 Freeway, drawn in by the promise of campy pink decor, waterfall bathrooms and colorful glass goblets. There are now 110 different themed rooms at the large property, though it's worth booking your trip a few months in advance if you have your eye on a certain room or suite. Though there's a steakhouse, a spa, a pool and many other amenities on-site at the Madonna Inn, the Sunset Drive-In is also a few minutes away and shows double features for $12 per person every night of the week. Also, on your way out of town, it's more than worth it to stop at Corazón Cafe for a plate of asada chilaquiles and a horchata latte. — J.C.
$219 and up at Madonna Inn
Ride and dine at Spoke Bicycle Cafe in Elysian Valley
You and your loved one can eat breakfast or lunch or just sip an Arnold Palmer this holiday season while fellow diners wheel in and out. Burgers and sandwiches are $16-$20. Bike rentals are available at $15 an hour (more for tandems and kid trailers) from 10 a.m. through 3:45 p.m., and you can ride for miles alongside the concrete banks of the sometimes handsome, frequently gritty, always interesting L.A. River. The cafe (and other popular stops such as the La Colombe coffee outlet in Elysian Valley) is part of the 11-mile-long Glendale Narrows portion of the river. Pedalers, pedestrians and equestrians can cross the river on several bridges. — Christopher Reynolds
$15 an hour for bike rentals at Spoke Bicycle Cafe
Tipple at the Tiki-Ti
Drink a tropical cocktail at the Tiki-Ti (pronounced tiki-tee) on Sunset in honor of the late Ray Buhen, a pioneer in California tropical mixology who founded the bar in 1961. The bar is now run by his son, Mike Buhen, and grandson Mike Buhen Jr. Hours can vary, but recently it's been open from 6 p.m. to midnight Wednesday through Saturday. Every Wednesday night they offer Ray's Mistake, a custom cocktail (rum, gin, passionfruit syrup and other ingredients) designed by Ray, for $9. Also, at 9 p.m., everyone in the tiny bar, which holds 12 stools, five tables and multiple dangling blowfish, drinks a toast to Ray. Most drinks are $12-$14 (Ray's Mistake is usually $14), but some range as high as $18. — C.R.
$12-$18 generally for cocktails at Tiki-Ti
Float above Orange County in a giant balloon
Inside of Irvine's Great Park, there's a bright orange 118-foot-tall balloon. The appeal of the balloon is not only that it's free to ride, but that it's probably the safest and least scary way to take a balloon ride. Unlike most hot air balloons, which use a burner to raise a free-flying balloon high into the air, the Great Park balloon is one of the largest tethered helium balloons in the world. This means that the balloon is attached to a steel cable, which allows it to ascend about 400 feet without ever losing contact with the ground. It's kind of like the movie "Up" meets a slow and dramatic elevator ride with a pretty great view. And though I don't think I'll feel the need to ride the balloon more than once in my life, it's a sweet experience for someone who's never done it.
Tickets for the balloon are first-come, first-served, but I'd recommend showing up on a Thursday or Friday because foot traffic is much lower on weekdays. (I visited on a Thursday around noon and was on the balloon within minutes of arriving.) The closest parking is in Lot 3, and everyone must check in at the park's visitors center, where you'll sign a waiver and get a ticket for the balloon. There are no age or height restrictions, and the balloon is wheelchair-accessible. Also, leashed dogs are permitted. Though the balloon experience is available Thursday through Sunday, flights depend on weather conditions, so I'd recommend calling in the morning to ensure that the balloon is flying that day. — J.C.
Free at City of Irvine
Whip up a delicious meal (with the help of some professionals)
If food seems to be your partner's favorite love language, Gourmandise offers date night cooking classes most weekends where couples can learn to make anything from bao buns to a whole fish. Each three-hour class is BYOB (there's a restaurant next door that sells wine and beer if you forget to bring your own) and each goes through the intricacies of chopping, prepping or cooking whatever is on the menu. For our Mediterranean small plates class, we learned to make rice pilaf, pita bread, hummus, baba ghannouj, roasted chickpeas and lamb meatballs, which was less intimidating than it sounds, I promise. Although this may seem obvious, you'll be cooking for most of the class, so I'd recommend eating something before it starts. We didn't eat our completed dinner until about 9:30 p.m., at which point everyone was a bit hangry.
All ingredients are pre-measured for you, though the classes require hands-on involvement otherwise. Depending on the meal, some of the more time-consuming aspects may be prepped for everyone (like our pita bread dough), but recipes for every part of each meal are emailed to participants the next day. And the best part? No one has to fight about who's doing dishes at the end. — J.C.
$250 at the Gourmandise School
Get away to Riverside's Mission Inn
This is a splurge to set aside for someone who loves history and architecture. The Mission Inn's room rates start at $179 for this 238-room, four-restaurant landmark and its sprawling amalgamation of styles. Tell your loved one to prowl the fourth and fifth floors for spectacular courtyard and rotunda views. For dinner, I recommend the inn's Las Campanas restaurant and bar, which serves flavorful Mexican dishes on a patio surrounded by greenery. Also, tell your loved ones that if they backstroke slowly in the enormous pool, they'll see that 16 surrounding palm trees form an almost perfect circle in the sky. (Is this place perfect? No. The inn wants $9.95 for Wi-Fi use.)
The inn began as an adobe boarding house in 1876. In the early 20th century, when William Randolph Hearst was combing Europe for antiques and stray architectural bits to dress up his San Simeon castle, Mission Inn owner Frank Miller was over there as well, chasing possible additions and amendments to his inn. Through the decades, Miller hired a series of architects and entertained a series of presidents (whose portraits hang in the lobby's Presidential Lounge. In 1940, still 29 years from the presidency, Richard Nixon and Pat Nixon got married here.) As Christmas nears, the entire block is draped in twinkling lights, and the courtyard teems with displays. (Regardless of season, nobody should miss the Riverside Art Museum's Cheech Marin Center for Chicano Art & Culture, which is across the street from the inn.) The inn offers gift cards. — C.R.
$179 and up for rooms at the Mission Inn
Tour Frank Lloyd Wright's Hollyhock House
Here's an affordable temporary cure for house envy. Designed by Frank Lloyd Wright from 1919-21 for heiress Aline Barnsdall, this 6,000-square-foot hilltop residence is a UNESCO World Heritage site. Tours are self-guided, with multiple well-briefed docents present to field questions about the building, Wright and his client. No matter where you live, Wright's ideas here may leave you agog. Concrete doors? A fireplace with moat? (And isn't the view of the Hollywood sign splendid, considering that the house was built before the sign?) It's open 11 a.m. to 4 p.m. Thursday through Saturday, and tickets are $7 per adult (seniors $3; free for under 18 with a paying adult). Grassy areas on the hilltop are available for picnicking, and the Los Angeles Municipal Art Gallery, also on the hilltop, is free to visit. — C.R.
$7 per adult at Hollyhock House
Look for whales off the coast of Newport Beach
Going on a whale-watching cruise is more meditative than active, making it a perfect gift for someone who wants to take in a new environment with a few surprises. As with most wildlife tours, there's no guarantee that each boat's passengers will see whales, but there's a solid chance that other sea creatures will pass by. Two-hour cruises from Newport Landing start at $36 for adults, though there are cheaper tickets for children and seniors and steeper charges for cruises at certain times each day. There are snacks and drinks on board, but the best part of the trip will definitely be what you see off the side of the boat. On any given ride, there's a good chance you'll see different kinds of dolphins, a hoard of California sea lions that congregate at the buoys, miscellaneous wildlife including sunfish, and ideally, giant blue whales, finback whales or gray whales. — J.C.
$36 for adults at Newport Landing
Take an Esotouric view of the city
Esotouric is a local tour company that offers gift certificates of $50 (covers a walking tour) or $85 (covers a bus tour). Tours led by Richard Schave and Kim Cooper cover California culture, true crime and literary Los Angeles. They include gay downtown L.A. (a popular recent addition), several neighborhoods, and territory from the works and lives of John Fante, James M. Cain and Raymond Chandler. On the Chandler tour (which includes plenty of city grit as you move among semi-seedy downtown landmarks), your gift recipient will enter the downtown office building (now the Hotel Per LA) where Chandler worked for the Dabney Oil Co. until his 1932 firing prompted the launch of his literary career. Once tour guests have covered Chandler's life and plot locations in downtown L.A., Koreatown and Hollywood, they wind up at Larry Edmunds Bookshop, which has one of Hollywood's best collections of showbiz ephemera, including classic movie scripts. — C.R.
$50 and up for walking tours at Esotouric
See a show at Bob Baker's Marionette Theater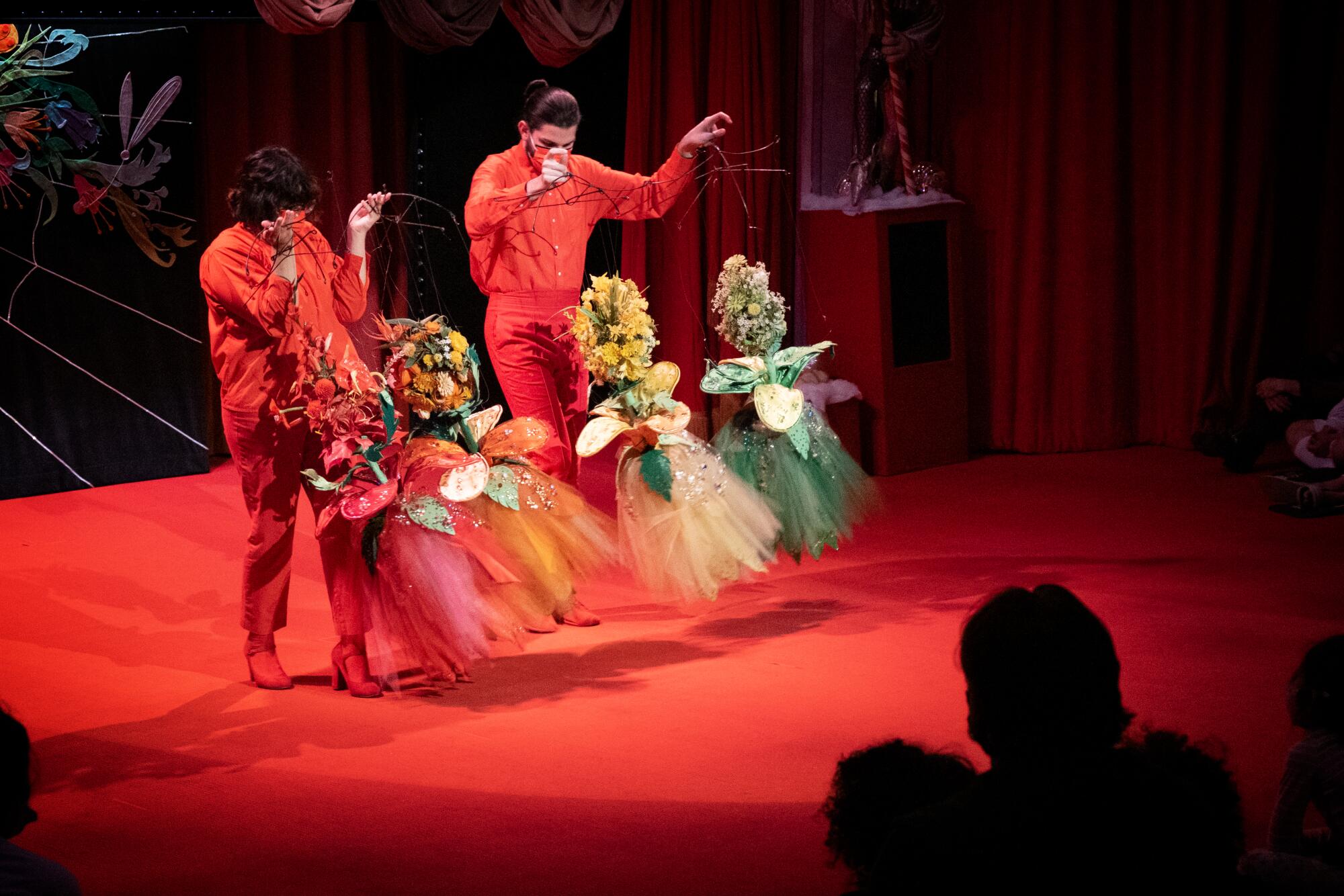 From Nov. 18-19, the company celebrates its 60th birthday with a series of special shows at its Highland Park headquarters along with after-parties. Beginning Nov. 15 and running through early January, "Bob Baker's Nutcracker!" takes over the stage. The company has been doing this adaptation of the ballet classic one way or another since 1969. Most shows cost $28 per person including a $3 online convenience fee. After the show? Ice cream for all. — C.R.
$28 per person at Bob Baker's Marionette Theater
Hear jazz at the Baked Potato
Maybe your partner, parent or buddy is a bigger jazz fan than you are. This is your chance to turn the tables for a night and arrange for your jazzhead an evening at one of Greater L.A.'s several jazz clubs. The Baked Potato (a.k.a. the Spud) in Studio City has been focusing on intimate contemporary jazz since 1970, and that's immediately clear when you enter: There's no seat more than about 30 feet from the stage, and some are more like 18 inches. The ceiling is low, and audiences are often tightly packed. "Pardon me, I got stuck!" said a guy in a ponytail sidling past me between sets recently. Turned out he was David Garfield, the headliner, returning to his keyboards. Many session musicians play here, and even if their names are new to you, their skills can be staggering.
Audiences, far more attentive than your average club crowd, might clap along with a bass solo. There's usually a cover of $23 to $30 with a two-drink minimum (drink prices start at $5). The club is open daily from 6 p.m. to 1 a.m., and the kitchen is open until 11:30 p.m. (Most of the menu is potato dishes, and because the place qualifies as a restaurant, all ages are welcome.) Patio seating costs less than the main room, but from there you'll be watching a closed-circuit TV feed, not the live action. (Other jazz options include Catalina Jazz Club on Sunset Boulevard in Hollywood, the Lighthouse Cafe in Hermosa Beach or, for a fancier, pricier night, Herb Alpert's Vibrato Grill in Beverly Crest, which offers gift cards.) — C.R.
$23-$30 cover charge at the Baked Potato
The Los Angeles Times Community Fund builds vital service programs and initiatives within The Times and Greater L.A. Tax-deductible donations support literacy programs, local charities and more. Donate now.
Get personal with a bird of prey
Through L.A.-based Hawk on Hand Falconry, you can surprise your birder buddy with a 90-minute falconry session with expert Adam Baz or someone from his team. Once you've gathered at Ernest E. Debs Regional Park in Northeast L.A., you'll spend 90 minutes in the company of a Harris' Hawk named Jasper that will fly to and from your gloved left hand, demonstrating notable intelligence, a ferocious glare, inch-long yellow claws and hunger for tiny bits of mouse. "All that matters to them is food," Baz told a guest one recent afternoon. "They don't love me." But they're fascinating creatures, and Baz (who has a master's degree in ornithology) can tell you all about their species, habits, lifespans and personal histories. Cost for experiencing one bird is $350 for a group of four ($87.50 per person). For $25 more per bird per group, your outing can include a pettable barn owl named Archie or an Augur buzzard named Kanoni ("an African cousin of the red-tailed hawk," Baz said). When Baz isn't showing off the birds to curious customers, he and his birds are often hired by TV and movie productions to keep pigeons away or protect drones from seagulls. — C.R.
$87.50-$100 per person at Hawk on Hand Falconry
Ride the Balboa Island ferry and grab a frozen banana
In many ways, the Balboa Island ferry is comical: it's a vessel that takes only three vehicles at a time on about a three-minute ride from Newport Beach to Balboa Island, and the real kicker is that there's now also a bridge to Balboa Island, making the ferry totally unnecessary.
But since 1919, the Beek family has operated the ferry, which is still used by more than 1.5 million people and 300,000 automobiles. Although its future is currently in doubt — a state law requires the boats to switch to a zero-emission engine by the end of 2025, but operators say that will be too expensive — you can still take the ferry for a joy ride at the reasonable cost of $1.50 per person and an additional $1 for the car. After you're on Balboa Island, there's a strip of restaurants and stores along Marine Avenue, where you can live an "Arrested Development" fantasy and customize a frozen banana at Sugar 'N' Spice. — J.C.
$1.50 per person (and an extra $1 for the car) at Balboa Island Ferry
Find more California adventures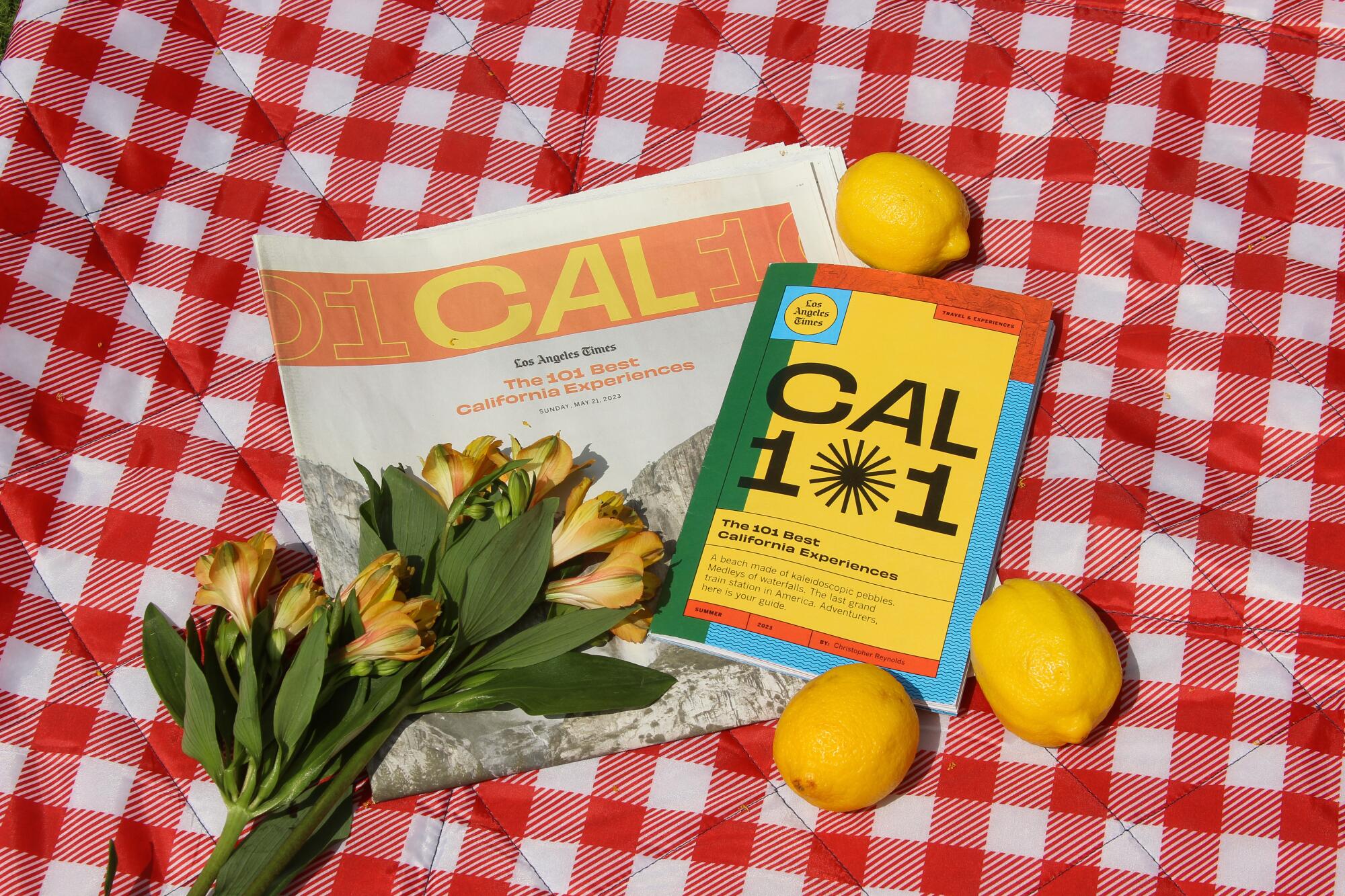 In search of trip ideas? I took our 101 Best California Experiences special section and turned it into a pocket-sized 36-page zine with color illustrations. This guide includes a beach made of kaleidoscopic pebbles, a medley of waterfalls, the last grand train station in America and 98 other adventure spots scattered among cities, towns, beaches, deserts, mountains and forests throughout the state. — C.R.
$14 plus $6 shipping at Shop LA Times
Prices and availability of experiences in the Gift Guide are subject to change.
Watch L.A. Times Today at 7 p.m. on Spectrum News 1 on Channel 1 or live stream on the Spectrum News App. Palos Verdes Peninsula and Orange County viewers can watch on Cox Systems on channel 99.
More gift guides